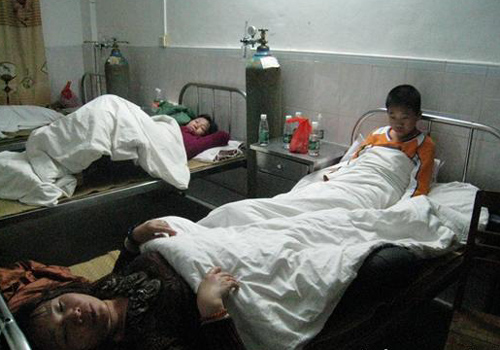 Three residents rest in hospital beds on Wednesday while they recuperate from exposure to a chemical leakage in Jieyang, Guangdong province. More than 200 villagers were sent to six local hospitals for treatment after being poisoned on Monday night when liquid ammonia leaked from the Zhongtai chemical plant in Zhupu village in Jieyang. ZHANG DI / CHINA DAILY
GUANGZHOU - About 20 villagers in Jieyang of South China's Guangdong province remained hospitalized on Thursday afternoon, three days after they were poisoned by a liquid ammonia leak at a nearby chemical plant.
Some 180 other villagers, who also suffered from the toxic leak, have returned home after receiving medical treatment.
"Those who remain in the hospital are in good condition and they'll be able to return home in the near future," said a doctor with the city's Rongcheng district people's hospital, who declined to be named.
According to the doctor, most of the villagers had headaches, throat pain and nausea.
"Most of them had a stomachache and wanted to vomit when they were sent to the hospital," he added.
More than 200 villagers were poisoned after they breathed in the chemical gas when a chemical plant leaked liquid ammonia in Zhupu village in Nanxi township on Monday night.
About 30 ambulances were quickly sent to the scene to help carry the victims to six local major hospitals.
Firefighters from three fire stations and police officers also arrived at the scene to investigate the incident and rescue the victims.
Chen Gengfeng, a Zhupu villager, said he was at home watching TV with his wife and mother when he smelled a strong odor of ammonia at about 8:30 pm on Monday.
Chen then immediately gave his wife and mother wet towels to cover their noses and asked them to close the windows and doors.
He knew that it must be the Zhongtai chemical plant, which is about 200 meters away from his home, that spilled liquid ammonia, as this was not the first chemical leak at the plant.
Chen ran out of his house to go to the chemical plant to demand an explanation, but he was struck with a terrible stomachache en route to the plant. After a few minutes, he fainted.
When Chen woke up, he found he was in an ambulance receiving oxygen. Chen said he was later sent to the intensive care unit for emergency treatment.
And Chen Haosong, 14, was discovered to have an arrhythmia and all of his fingers, toes and lips had turned black when he was sent to the hospital, according to Chen's father his father.
But the boy, who was seriously poisoned, is stable after a day's treatment, said Chen Jinxian.
More than 1,000 villagers were reported to have left their homes in an attempt to escape the gas leak.
"We will not seek extra compensation. We just hope the chemical plant can soon be shut down and moved away after this case," said villager Chen Shaoxiong, whose home is just about 100 meters from the Zhongtai chemical plant that spilled the liquid ammonia.
Covering an area of 37 mu (2.47 hectares), the chemical plant has been operating for seven years in the village. It was also reported to have leaked liquid ammonia in July 2007.
Under great pressure from local villagers after the first incident, Nanxi township government officials said they promised to shut down the chemical plant in three months, according to local media reports.
CHINA DAILY
(China Daily 04/30/2010 page5)