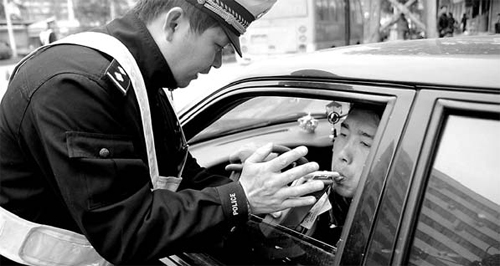 A driver blows into a breathalyzer for a police offi cer in this fi le photo from Hubei province. QIU XIAOWEI / FOR CHINA DAILY
BEIJING - The country's leading police chief suggested on Wednesday that the top legislature add a new charge to the Criminal Law to stem drunk driving and illegal car racing, which have killed dozens of people in recent years.
"Studies on stipulating a new charge of 'driving motor vehicles in a dangerous way' are underway," Minister of Public Security Meng Jianzhu said while making a report on road safety to the National People's Congress Standing Committee.
The new charge targets illegal traffic practices, including drunk driving, the use of fake licenses, illegal car racing and overloading transport, which are believed to jeopardize road safety, Meng said.
Previously, it was only when severe consequences, such as deaths or injuries, have occurred as a result of these illegal practices that an offender has been accused of a "traffic offense" or of "endangering public safety".
Related readings:


 Drunken man left in underwear after robbery


Drunken drivers should be booked under the crime of dangerous driving


Tougher times for drunken drivers ahead


Convicted drunken drivers to pay higher insurance rates


New law proposed for drunken drivers


China tightens crackdown on drunken driving
However, the suggested charge to the law does not require severe consequences as a precondition for the charge, according to Zhou Guangquan, deputy dean of the law school at the Beijing-based Tsinghua University.
Meng also suggested raising the limit of punishment for traffic offenses from the current maximum jail term of seven years.
The suggestions have already received strong support from the public.
"Drunk drivers are no different than murderers. Only severe punishment could work to stop them," said Beijinger Zhang Jian.
The new charge, if added to the Criminal Law, will more effectively warn people not to drink and drive, said Hangzhou-based lawyer Wang Zhiguo.
Several recent tragedies have placed the dangers of drunk driving at center stage.
Sun Weiming, a 30-year-old sales executive, killed four people in Chengdu, capital of Sichuan province, in 2008 and became the first drunk driver to receive a death sentence on charges of "endangering public safety". He later received a life sentence after he appealed to a higher court.
In response to the proposed change, both lawyer Wang Zhiguo and Zhou Guangquan, of Tsinghua University, said the two existing charges could cover drunk driving that resulted in deaths or injuries, making the new charge "unnecessary".
Zhou even warned that the new charge could ruin a drunk driver's livelihood, if no casualties were incurred by the incident.
"In China, people tend to view crimes more seriously than some other countries, where stealing things worth less than 100 yuan ($14.60) can be a crime that leads to a light punishment like a fine," he said.
"Legislators should be cautious about setting up a new crime."
In China, nearly 200 million people hold driver's licenses and the number of privately-owned vehicles soared to 187 million by the end of 2009, according to figures from the Ministry of Public Security.
Despite the rising number of drivers and vehicles, traffic accidents have actually declined, from 667,000 in 2003 to 238,000 in 2009. From 2003 to 2009, the death toll from traffic accidents also dropped from 104,000 to 68,000.
Nevertheless, illegal traffic practices of both drivers and pedestrians still pose a severe problem.
Deaths caused by drivers who proceed before pedestrians have safely crossed the road increased 5 percent in recent years, the ministry said.
CHINA DAILY
(China Daily 04/29/2010 page4)