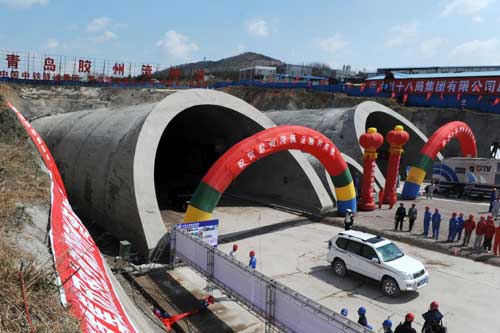 China's second undersea tunnel, also the first of its kind in north China, completes construction in Qingdao, East China's Shandong province, April 28, 2010. [Photo/Xinhua]
QINGDAO - Major digging finished Wednesday on an undersea tunnel linking the east and west parts of Qingdao, a coastal city of east China's Shandong province, said local authorities.
It is China's second undersea tunnel, with the first, which opened Monday to traffic, connecting Xiamen Island and the mainland in southeastern Fujian Province.
Qingdao's Jiaozhou Bay Undersea Tunnel, running 7.8 kilometers with 3.95 kilometers undersea, links the urban Tuandao district and Xuejia Island of Huangdao District, said Xue Qingzeng, spokesman for the publicity department of Qingdao City Government.
The construction of the tunnel started in December of 2006. The tunnel is scheduled to open to traffic in the first half of 2011, which will help cut travel time from one side of the bay to the other from one hour to ten minutes. The cost of the tunnel is 3.3 billion yuan (about US$485 million).