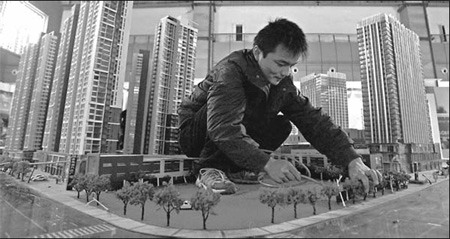 A staff worker prepares the prototype of a housing project for an exhibit in Wuhan, capital of Central China's Hubei province, on April 15. [Wang Nanfei / for China Daily]
New regulation designed to cool the surging real estate market
BEIJING -- China's top housing authority has pledged to punish property developers who deliberately raise housing prices by delaying proposed sales dates - the latest move by the government to cool the red-hot real estate market.
The rule was issued by the Ministry of Housing and Urban-Rural Development on Monday.
Related readings:


 Soaring property prices


 China to increase land supply for residential property


 Chinese shares plunge to below 3,000 points over property curbs


 Economist says China's property market the biggest bubble in history
In the regulation, the ministry also ordered developers not to take deposits for sales of uncompleted apartments without proper approval and barred them from charging "abnormally high" prices.
Developers must disclose to the public all apartments available and their prices, and start selling within 10 days after getting pre-sale approval, the Ministry said in a statement on Tuesday, vowing to punish developers that "artificially" create supply shortages.
The focus on developers' sales tactics follows curbs on loans for third-home purchases, increased down payment requirements and higher mortgage rates announced in the past week.
The State Council, or the Cabinet, has said stricter measures to control speculation are needed after property prices in 70 cities jumped a record 11.7 percent in March.
"It will have some impact curbing prices if implemented effectively," said Li Shaoming, a Beijing-based analyst at China Jianyin Investment Securities Co. "Tax policies may follow if those measure fail to produce evident effects."
Developers who fail to start selling within the required time, price homes at "abnormally high" levels, or "artificially" create supply shortages by faking sale contracts, will be "severely" punished, according to the statement.
Measures to cool the market:
On March 11, the Ministry of Land and Resources issued a directive, saying that developers must take a 50-percent downpayment on all land put up for auction within one month after signing a contract, or they will lose the land along with their deposit.
On March 18, the State-owned Assets Supervision and Administration Commission of the State Council ordered 78 central State-owned enterprises to quit the housing market.
On March 23, the Ministry of Land and Resources suspended transactions of land for residential use until a nationwide land-use plan was crafted on April 15.
On April 14, the central government raised the required downpayment for a family purchasing a second house from the 40 percent to 50 percent.
On April 17, the State Council asked related departments and local governments to take strict measures to curb speculative property purchases and to increase residential housing supplies. It also said banks can refuse loans to people buying their third houses in areas suffering from soaring property prices.
China Daily
The government has repeatedly said developers can't hoard land or intentionally delay sales to speculate on further price gains.
Agents are banned from practices including spreading false information and hyping sales by hiring people to pretend to be buyers, the statement said. Such practices "pushed the waves" in the rapid property price gains, Li said.
Developers tend to control the pace of supply and reserve some apartments, possibly in better locations, to sell at higher prices later, she added.
Local regulators must grant pre-sale approval to one entire building rather than some units or floors, according to Tuesday's statement. Buyers' names can't be changed after the subscriptions, the statement said.
Earlier measures
On April 17, the State Council required banks to stop loans to third-home purchases and suspend lending to buyers who can't provide tax returns or proof of social security contributions in the related city for at least one year.
Local governments can limit the number of units that can be bought, while senior officials will be held responsible for failing to stabilize property prices, the statement said.
On Apr 15, the government raised mortgage rates and downpayment ratios for second home purchases after a record jump in house prices in March. Buyers purchasing their second houses must pay at least a 50-percent deposit, up from 40 percent, and interest rates should be at least 1.1 times the benchmark rates, the State Council said.
After a series of strict measures on curbing soaring housing prices, experts and homebuyers are optimistic about the future of the property market.
Yan Jinming, a professor of land management at Renmin University of China, said it is the first time that the central government is taking comprehensive measures to balance land supply and demand, which will effectively cool the overheating real estate market.
"The series of measures give residents confidence in the domestic housing market and curbs speculation in the country's major cities," Yan said.
Latest statistics show between Friday and Monday, property developers of about 92 housing projects had given discounts of 1 to 5 percent, the Beijing Morning News reported on Tuesday.
Many potential house buyers are taking a wait-and-see attitude.
"Before the measures, I was always afraid that if I did not buy a house now, it would never be affordable for me. But now I definitely won't buy at such a high price," a house buyer surnamed Chen said at Soufun, the country's largest real estate portal.
Bloomberg contributed to the story