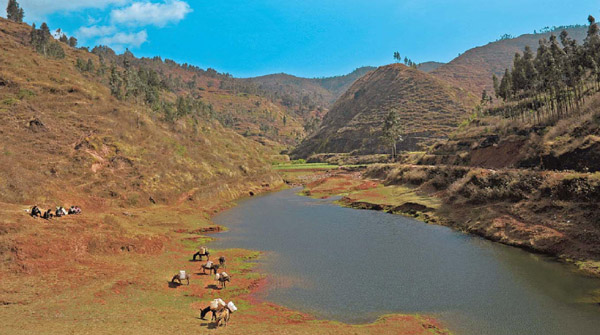 The only reservoir close to Dahuangdi, a remote village hidden in the mountains of Mouding county, Yunnan province, has almost dried up after months of severe drought. Villagers believe moving away could be the only solution. LI QIANG / FOR CHINA DAILY
Residents fear that relocation from the water-scarce region may cause problems, not solve them. Peng Yining and Li Yingqing report from Yunnan.
Li Zuquan has thought about moving his family away from Dahuangdi for years. Deep in the mountains of Yunnan province, the remote village has no natural water sources, meaning drinking water supplies and irrigation are heavily dependent on rainfall.
Sadly, it has not rained here for more than five months. All of Li's crops have dried up and his family is facing a severe shortage of food and water. Being relocated by the authorities may be their only chance of survival.
"Unless we move, our lives will be decided by our natural environment," said the 45-year-old farmer, whose family has lived in Mouding county for generations.
More than 5,000 people in neighboring Nanhua county are expected to be relocated due to the ongoing drought in Southwest China, according to media reports. Officials insist the move is only a short-term fix.
"The relocation will be temporary. Villagers will just move into tents around the nearest water source and will move back when the drought eases," said Meng Fu, a publicity official for the administering city of Chuxiong. "The government has been resorting to 20-day relocations to help those affected by the drought since 2005."
However, although no one in Mouding has yet been offered a new home, many villagers say only a permanent move from the drought-prone zone will end their suffering.
When asked if he would like his family to be resettled, Li hesitated before answering: "This village has no water. If, like in Nanhua, we have to come back after 20 days, we'll still have to face the drought, only milder."
From Mouding, the seat of the county government, it takes four hours of driving on rocky mountain roads to reach Dahuangdi, a community of less than 100 people. The next village is about a day's walk away and residents must climb for two hours to get drinking water from a mountain reservoir, their only available source during dry spells.
"When we have enough rainfall, farmers can easily afford food and clothes, and can possibly even have 1,000 yuan ($145) left in their pockets," said village head Wang Qiongzhen. "If we don't have enough rainfall, farmers are likely to go hungry."
Li stocks his food in the attic of his crumbling adobe house. All his family has is 30 kilograms of rice packed in a dirty weaving bag and a dried leg of pork hanging from a ceiling beam. He said mixing the food with corn will make it last for almost a month.