Drastic increase due to rapid development of e-business: Customs
BEIJING -- The country's customs officials seized as many as 37,000 pieces of mails and express mails containing counterfeit items from June to December of last year, seven times the figure in the same period of 2008, the General Administration of Customs (GAC) said on Monday.
Related readings:


 Customs crack 1,411 smuggling cases in 2009


 Chinese customs seizes toxic US waste tires


 Customs rejects overseas scholar's appeal for held books


 Man smuggles Chihuahua through customs
On July 20, 2009, Beijing Customs stopped a batch of outbound express mail for random inspection.
Each of the 75 boxes, with "digital accessories and parts, digital cassettes and electronic accessories" written on them, weighed 30 kg.
The parcels were headed to 10 countries.
On opening the boxes, officers found more than 50,000 mobile phones, SD cards, flash drives and memory banks involving 12 brand names.
The smuggling bid opened the customs department's eyes to the seriousness of the infringement of intellectual property rights in the country.
The case is now been transferred to the public security department for further investigation.
The drastic increase in the practice is due to the development of e-business, said Meng Yang, director of the policy and regulations department of GAC, at a press conference in Beijing.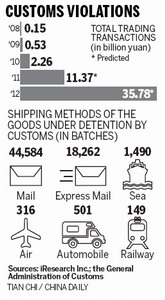 "Intellectual property protection in export trade faces new threats as e-business develops. With online trading gaining popularity, we're seeing more and more cases where tort goods are shipped through mail, express mail, or carried by individual passengers across the border," Meng said.
But she said the department would not regard it as an infringement of property rights if tort goods carried by passengers were within "range of reasonable self-use".
Zhao Fudi, spokesperson for the GAC, said mails and express mails had become a major channel in the cross-border circulation of tort goods.
Zhao said the GAC launched a special campaign from July to December last year, where inspection was focused on mail and express mail.
"The number of batches of goods seized through mails and express mail in 2009 has jumped by 738 percent compared with 2008.
"The number of items has increased by 28 percent, and the total value by 402 percent," he said.
China's e-business transactions reached 530 million yuan ($77.6 million) in 2009, an annual increase of 248.7 percent, iResearch said in its report on Thursday.
It said China's e-business market is stepping into an explosively increasing stage.
"In the next two to three years, the country's e-business customers will maintain an annual growth rate of 70 percent. Scales of real goods will reach an annual increase of up to 400 percent," the report said.
According to the GAC data, a total of 280 million items were seized last year because of intellectual property infringement, where 99.9 percent were exporting goods and 99 percent were trademark infringement.
Tobacco products, light industrial products, cosmetic and care products, hardware and mechanical products, and clothes topped the list of goods categories in terms of the number of items seized in 2009.
Among the five, only tobacco products saw a decrease in number compared with last year, from 560 million in 2008 to 180 million in 2009.