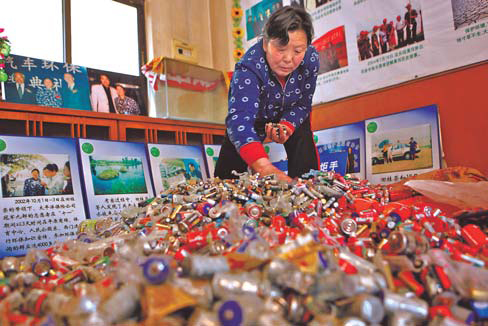 Environmentalist Tian Guirong categorizes used batteries at a warehouse in Xinxiang, Henan province, last week before disposing of them properly. ZHANG TAO / CHINA DAILY
 
How citizen groups are helping to clean up the countryside. Li Jing reports from Henan.
When Tian Guirong first read Silent Spring, Rachel Carson's seminal 1962 book that is credited with helping to launch the environmental movement, it changed her life.
600,000
liters
Amount of water that discharge from one leaking battery can pollute
70
tons
Amount of waste batteries collected by Xinxiang Environmental Protection Volunteers since the group was founded in 2002
3,000
members
Number of people who are with the volunteers' NGO. They include farmers, students, and workers. The group started with just 12

She was so inspired by the American naturalist's courage to speak out about the human impact on ecology (Carson was harshly criticized at the time for her claims pesticides caused pollution), she knew she could make a real difference.
"I could not help but cry when I learned the author was fighting breast cancer when she wrote the book," said the 58-year-old businesswoman from Xinxiang, Henan province. "It forced me to ask myself, 'Why don't I do something to help save the environment'?"
In the years following Silent Spring, she has done just that and even founded China's first "green" non-government organization (NGO) run solely by farmers.
Since its establishment in 2002, Xinxiang Environmental Protection Volunteers has collected more than 70 tons of waste batteries, a serious risk to the ecology in the countryside, and led a pollution survey involving farmers across the whole drainage area of the Yellow River.
Although she finished her just studies after completing only primary education, by the late 1990s Tian was a successful battery dealer in Xinxiang, having worked her way up from a saleswoman at a small township company a decade earlier.
It was not until she took a trip to the nation's capital in 1999 did she become aware of the need for greater environmental protection.
"I read in a magazine I picked up in Beijing that the discharge from a leaking battery can pollute up to 600,000 liters of water and, if buried, can sterilize 1 square meter of farmland," said Tian. "I was shocked. I really didn't know the business I was in could be potentially harmful to the environment. After I came back from Beijing, I immediately started to collect all the used batteries at my stall in the department store."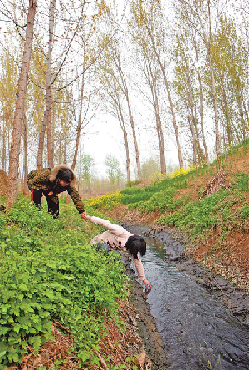 Tian Guirong, left, and a member from the Xinxiang Environmental Protection Volunteers, the NGO she set up in 2002, attempt to get water sample from a drainage outlet of a small pharmacy factory in Loucun, Henan province. ZHANG TAO / CHINA DAILY PHOTOS 
She discovered that getting others as enthusiastic about environmental protection was not so easy, however.
Although the Friends of Nature - China's first environmental NGO - was founded in 1994, understanding on the green issue was still limited among the majority of the Chinese public, and even less so in Xinxiang, a second-tier city in northern Henan.
Much to the confusion of her family, Tian invested her own savings to begin a battery collecting campaign, as well as printed leaflets and organized public activities to spread the environmental message. In 2001, she also launched greentian.org, a website to gather and disseminate information on green issues.
"I didn't have much education but I tried to improve my knowledge as much as possible. Luckily, the Xinxiang environmental protection bureau offered a lot of help," said the eco-activist. "I began to borrow books from the bureau, including Silent Spring, and I was also the first farmer to ever subscribe to China Environment News, an official publication of the State ministry."
Films also offered more inspiration for Tian, including the Oscar-winning Erin Brockovich, the true-life tale of an unemployed single mother who exposed a series of industrial poisonings in the United States and helped to bring a powerful company to justice.
"Even with Chinese subtitles, I still had to watch the video three times to fully understand it. The story gave me the courage to do something similar," she said.
Targeting polluters
Raised in a village called Fanling, Tian said she has many beautiful memories from her childhood.
"The village is at the foot of Taihang mountain and a tributary of the Yellow River runs through it," she said. "The scenery used to be really good and, some winters, wild geese would stay at a nearby lake."
As more factories moved into the area over the last two decades, the water in the village stream has turned black, while large numbers of villagers now suffer from illnesses caused by pollution, such as cancer, she said.