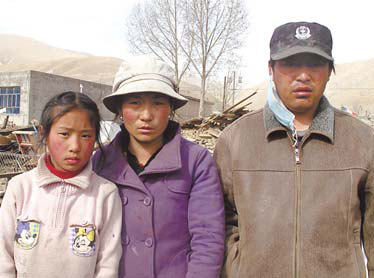 Drolma Tsekyi with her parents Lozang (right) and Tsomo. Her two younger sisters died in the quake. FU JING / CHINA DAILY
Qinghai terrain poses serious challenge to rescue operations after deadly earthquake, report Fu Jing and Yan Jie in Yushu, and Hu Yinan and Cao Li in Beijing.
When 10-year-old Drolma Tsekyi struggled out of bed just past 7 am last Wednesday, she could not hide her envy of her two younger sisters. Chimed Tsekyi, 6, did not have to leave home for another hour, giving her more time to snooze, while 4-year-old Yangkyi Laktse was still too young for school.
In the end, Drolma was the lucky one.
Just as she reached school that day, a 7.1-magnitude earthquake hit her native Yushu, a remote county in the mountains of Qinghai province. She survived but her sisters were both crushed to death when their home collapsed.
At least 1,706 people have perished in the tremor, the strongest and deadliest to hit China in almost two years.
More than 15,000 rescuers, medical workers, soldiers, armed police and volunteers, including many monks from nearby Buddhist monasteries, are racing against time to find miracles among the rubble.
As Yushu is a predominantly ethnic Tibetan area, the monks' proximity to local culture underpins the relief efforts, and Vice-Premier Hui Liangyu has hailed their active participation in the rescue operations. Hui arrived in Yushu to oversee the aid mission just hours after the earthquake.
Hundreds of victims of the disaster were cremated in a mass ceremony on Saturday as up to 1,000 monks chanted prayers for the deceased.
Although bodies need to be disposed of quickly to prevent the danger of epidemics sweeping through the earthquake zone, authorities have pledged to respect local funeral customs. However, many of the dead are unlikely to receive traditional Tibetan sky burials, in which the body is left on hilltops to be eaten by vultures, due to the sheer number of victims.
Drolma's two sisters were among those cremated over the weekend. Lozang Choden, her 33-year-old father, dug their bodies from the rubble with his own hands on Wednesday, and had been chanting sutras and praying for them ever since.
Lozang, his wife Tsomo, and Drolma were among five families still living in self-made tents beside their destroyed properties in Xianfengxiang, a community of about three dozen households just 400 meters from Gyegu town's central square.
The disaster flattened all their clay and brick-houses, and left at least 10 dead. "Our only hope is that the State rebuilds our homes," Lozang told China Daily.
In a neighboring community, the 18-room house that Tsering Tashi built and rented out collapsed. The 38-year-old estimated his loss at more than 1 million yuan ($146,000). He now lives with his wife - also named Tsomo - and two of his former tenants by the collapsed houses on just sheets and quilts.