An 83-year-old junk man who makes his living by collecting garbage in Yancheng, in Jiangsu province, donated 100,000 yuan (US$14,700) to the city's charity association for disaster relief Tuesday, the Yangtse Evening Post reported Thursday.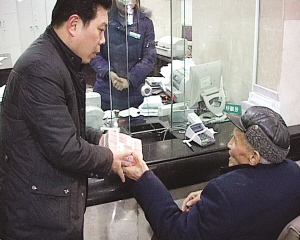 Zhang Zhongquan (R) hands his donation to a charity association worker, in Yancheng, east Chinas'Jiangsu province, April 13, 2010. [Photo/Yangtze Evening Post]
Even on his way to make the donation, the old man named Zhang Zhongquan picked up three empty plastic bottles to sell later, the Post said.
Zhang was a former worker in a construction company in Yancheng. He broke up with his family more than 10 years ago because he was always giving all of his money to those in need, and his family could not accept that.
Zhang lived mainly by selling small things like beverages and flyswatters as well as collecting garbage after his retirement.
Zhang said the 100,000 yuan was from his retirement pension and the money he earned from collecting garbage.