Heritage status for forgotten grave site offers solace to survivors of 'ugly era'. Peng Yining reports from Chongqing.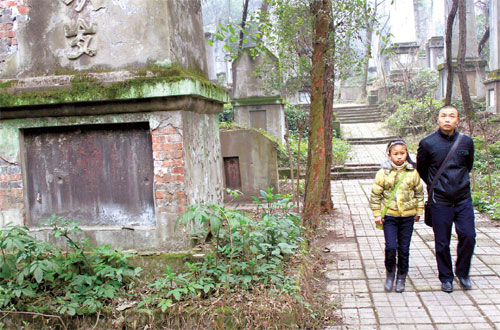 Visitors wander through Chongqing's sprawling Shapingba Park, which lies in the west of the city. The entrance to the "cultural revolution" cemetery is hidden behind a copse of trees off one of the park's main pathways. [PENG YINING / CHINA DAILY PHOTOS]
Few visitors wandering through Chongqing's sprawling Shapingba Park would instantly spot the gray, stone steps hidden by a copse of trees off a main pathway. The stairway snakes up a hillside and finishes at a gloomy brick enclosure surrounded by camphor trees and bamboo.
On the wall is an inscription covered partially by creepers that reads: "Wen ge mu qun" - "cultural revolution cemetery".
For years, this "red guard" burial ground, the final resting place of more than 400 men and women, has been a forgotten relic. Pathways through the 3,000-square-meter memorial are layered with dying leaves and choked with weeds, its tombstones green with mold.
Yet, although a remnant of an uncomfortable era in Chinese history, last December the site became the first "cultural revolution" (1966-1976) relic to be formally recognized for its cultural heritage, a move experts say will effectively safeguard the memory of those lost in the conflict.
"People have been avoiding talking about that era for a long time. Given this cemetery cultural status represents a small step forward in terms of facing an unhappy past," said retired teacher and amateur historian Zeng Zhong, 58, who has spent the last five years studying the cemetery. "The 'cultural revolution' may be a distant memory but the scars on people's hearts still need to heal.
"The cemetery helps people learn from a historic lesson it is also a comfort to the people who survived," he said.
There is no official definition of who the "red guards" were, although they are widely accepted to be students and young people mobilized by former leader Mao Zedong, who launched the "cultural revolution" to remove what he called capitalist elements permeating the Communist Party of China.
These young people divided into two rival groups, said Zeng. The verbal exchanges soon escalated into a wu dou, or physical struggle.
Chongqing, a municipality in Southwest China, was one of the cities that suffered a massive outbreak of violence, said Zeng.
"There's no official death toll for wu dou but I estimate that at least 2,000 people died in Chongqing during that period. There used to be more than 20 wu dou cemeteries in the city," he said, adding that the largest of these - the one in Shapingba Park - belongs to a group called 815.
Not everyone buried here was a "red guard", however. "About 219 were factory workers and only 115 were students," said Zeng. "My research shows 334 were men and 19 were women, although not all the bodies have been identified."