BEIJING - US students in China are set to become one of the largest overseas groups with Beijing and Washington working together to bring 100,000 students to China in the next four years, education officials have said.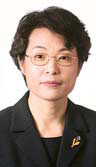 Zhang Xiuqin 
The Ministry of Education (MOE) is working with the US to implement a four-year education program put forward by President Hu Jintao and his US counterpart Barack Obama, said Zhang Xiuqin, director-general of the ministry's department of international cooperation and exchanges .
During Obama's visit to China in November last year, the two leaders announced that the US was committed to sending 100,000 Americans to study in China over the next four years.
"We will update the educational structure for these international students and increase scholarships," Zhang told China Daily.
Susan Stevenson, spokeswoman for the US embassy in Beijing, told China Daily that the US is in the process of working out modalities to boost the current rate of flow of students to achieve the goal.
"It is a commitment that represents a significant increase in the number of US students coming to China," Stevenson said.
She said the two sides are working on various projects, but declined to elaborate.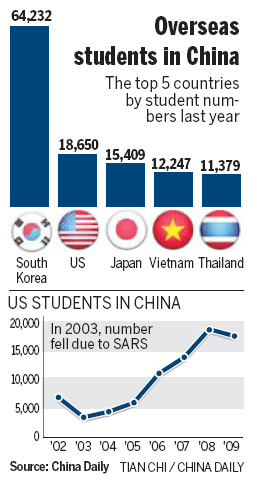 The number of US students studying in China has been rising steadily, hitting a high of 19,194 in 2008, and accounting for the second-largest group of international students, MOE figures show. The number was 18,650 last year, compared to 64,232 South Korean students, the largest group.
"More job opportunities are the biggest motivation for foreign students," Zhang said.
Mutual recognition of academic degrees between the Chinese mainland and 34 countries and regions has also helped promote job opportunities for overseas students, Zhang said.
Carlos Galvis, who arrived from San Francisco seven years ago, is part of a growing number of US students opting to complete their tertiary education in the country.
"From the beginning, I knew my main interest was going to be language and not so much philosophy, history, politics, which are subjects also covered in an American university" said the 31-year-old, who studied Chinese in Shandong University.
"I'm most proud of the fact that I've studied in China and found something that I love, and that's Chinese literature and poetry."
The majority of nearly 240,000 foreign students last year was still from Asia or developing countries, Zhang said.
Countries such as Thailand, Singapore, Pakistan, Tanzania, Rwanda and Saudi Arabia are encouraging students to study in China under government scholarship programs.
Beijing, Shanghai and Tianjin attract the largest number of foreign students, MOE figures show.
Singaporean James Tan, who is studying for his masters in business administration at Tsinghua University under a scholarship from his government, said he intends to explore and develop business opportunities after he completes his course this year.
"I would have chosen to study here even without the scholarship," said Tan, 35.
More than 18,000 foreigners studying in China received scholarships last year, an increase of a third year on year.
Xing Yu contributed to the story
China Daily