YICHUAN - The death toll in a central China mine explosion Wednesday has risen to 12, while about 32 people were believed trapped underground, local authorities said Thursday.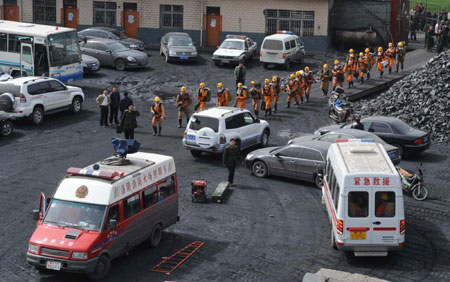 Rescue workers arrive at the coal mine after the explosion, Yichuan County of Henan Province, April 1, 2010. [Xinhua]
About 90 miners were working below ground when a gas explosion occurred at 7:20 p.m. in a coal pit privately owned by Guomin Mining Co., Ltd., in Yichuan County, Luoyang City in Henan Province, according to initial assessments given to the rescue headquarters.
Related readings:


 49 survive gas blast in underground coal mine

 Coal mine accident leaves two dead in C. China


 Warnings ignored before mine disaster


 Rescuers hold hope of survival in flooded mine
The blast killed eight miners underground and four on the surface. Another two on the surface were injured.
The statement said 50 miners were rescued, leaving about 32 still trapped underground.
The schedule of miners on duty at the time of the explosion was buried in the debris, delaying the tally of miners underground.
The mine's legal representative, Wang Guozheng, has disappeared.
Henan Governor Guo Gengmao, who is leading rescue efforts at the site, said: "Rescuers have determined the explosion occurred at the entrance to the pit after an underground gas outburst. There is still a chance those trapped underground survived the explosion."
About 100 rescuers were still racing to reach the trapped workers.
Guo ordered local police to find mine owner Wang Guozheng and freeze his assets.
Zhao Tiechui, head of the State Administration of Coal Mine Safety, has arrived at the site to coordinate the rescue operation.
"The pipe sending coal out of the mine was cut in half by the blast. A nearby two-story building caved in," said a witness who refused to give his name.
A middle-aged woman said after she heard the loud blast at 7:20 p.m., she fled her house carrying her 3-year-old daughter in her arms and did not return home until midnight.
The families of the missing miners have gathered at the mine entrance.
Work safety authorities ordered the mine to suspend operations after a gas outburst on May 1, 2009, making production after that date illegal, said a statement from the Henan Administration of Work Safety.
The coal mine was under technological renovation and was designed to have an annual production capacity of 150,000 tonnes.
Yichuan County Chief Wu Ligang and three other county officials have been removed from their posts since the accident.