Transfer of labor will address manpower shortages, conserve water in drought areas, and provide livelihoods
Guiding, Guizhou - In order to save water and offset agricultural losses, Guiding county in drought-hit Guizhou province has started to mobilize 10,000 rural laborers to work in eastern provinces facing manpower shortages.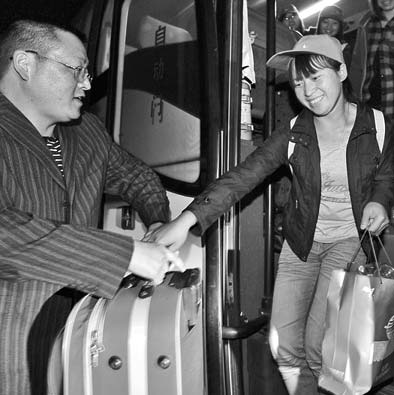 A group of 500 migrant workers from the drought-hit Yunnan province arrive at a shoe-making factory in Yangzhou, Jiangsu province on March 28. Another 1,000 workers from Yunnan are expected to arrive soon. [Xinhua] 
The most severe drought in a century continues to wreak havoc in Southwest China, leaving 5.83 million Guizhou residents struggling to find drinking water.
Among them, more than 200,000 people are from Guiding county. Official data from the county government suggests the drought has caused direct agricultural losses totaling 95.19 million yuan ($13.9 million).
Related readings:


 Reservoirs not cause of drought


 Severe drought continues to expand in China


 Drought may force power station to halt operation


 China's sugar output to drop 10% amid severe drought

To fight the drought and ensure the incomes of rural households do not decrease, the county government issued an order to lower governments, calling on them to summon 10,000 laborers to be dispatched to work in the Pearl River and Yangtze River deltas from April 10.
"Having laborers work outside of Guizhou will help to ease the grim situation of insufficient drinking water. Nearly 91 percent of Guiding's rural population lacks water to drink," said Yu Ming, a local government official.
"Moreover, it's time for spring cultivation, which is being seriously hindered by the water shortage. We cannot estimate when the rainy season will come," Yu told China Daily.
Neighboring Yunnan province also intends to send more migrants to work outside the province as the drought worsens.
Bai Enpei, Party chief of Yunnan, said this year the government will try to increase the number of migrant workers from Yunnan by 500,000 to 800,000.
Bai said the authorities will organize more migrants to work in other parts of the country, rather than let them wait at home for water. This will not only help tackle the drinking water shortage, but also increase their incomes, he said.
The government will also offer free skills training and organize job fairs, the official said.
Lu Guangfu, a 41-year-old farmer from the Dexing township in Guiding, said he could not plough his land because of the drought.
"My land is as hard as stone. Oxen refused to pull after a few steps. Rain is needed to soften and moisturize the land, so it is soft enough to plough and plant sprouts," he said.
Ye Qinghong, 42, from the county's Dingdong village, said tobacco seeds collectively sown two months ago on 800 acres had barely sprouted.
"We can't plant without sprouts. If the seeds do not grow enough to sprout, my brother-in-law and I will migrate to work in Zhejiang province," she said.
"We lost most rape and wheat due to be harvested by summer. Working in other provinces can utilize inactive labor forces and subsidize agricultural losses," said Yu.
Currently, 17 companies from Guangdong, Jiangsu and Zhejiang provinces have said they intend to hire 4,000 workers from Guiding for the county government.
The government requires organizers to ensure each migrant worker can achieve an annual income of 8,000 yuan and receive professional training for five days before they leave home.
According to official statistics, 4,093 rural laborers had left the county for work as of March 26.
However, officials estimate the drought may have a limited role in motivating farmers to become migrant workers.
Xu Haitao, an employment director for Guizhou labor and social security bureau, said numerous companies recovering from the economic downturn and facing manpower shortages had contacted his bureau, which organized more than 100 job fairs in March.
Alhough Guizhou's labor supply always exceeds demand, employers from the deltas experience difficulty in hiring laborers, partially because the wages they offer are low, Xu said.