Window cleaner discovers beauty of city in the sky
SHANGHAI: Not many people have the same perspective on the world as Hu Jinsong.
Suspended by a lifeline hundreds of meters above the ground, Hu sees things the way few others dare.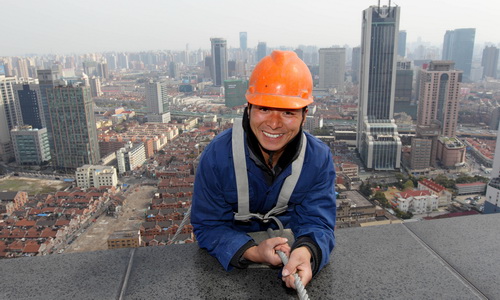 Hu Jinsong has cleaned more than 250 high-rises in Shanghai during his six-year career. [China Daily] 
Known as "Spiderman", Hu is a high-rise window cleaner who knows Shanghai's skyscrapers like the back of his hand.
"Once you stop panicking, you can appreciate the amazing view," said Hu, who has dangled from the outside of nearly every major building in the city, including the 101-story World Financial Center and the 468-meter Oriental Pearl.
"Now when I'm working up in the air, I'll stop once in a while and turn my head to enjoy the view," he said.
With Expo around the corner and the government racing to make the city sparkle, more and more people like Hu can be seen hanging mid-air, giving others a clearer view of the world.
Hu's company, the Shanghai Tiantian cleaning service, has seen its workload more than double since the beginning of this year.
Unlike their fictional counterparts, real-life Spidermen can't shoot webs from their wrists, but instead hang on ropes that make their work seem extremely dangerous to non-professional eyes.
In fact, the job is dangerous: High-rise window cleaning is ranked by insurance companies as the third most dangerous job in the world.
On March 24, a 51-year-old window cleaner in Shenzhen fell 15 floors to his death because of inadequate safety measures.
But Hu said that while there are deadly accidents almost every year, he has never seen anything fail that was not due to user error.
"As long as you've taken all the required safety measures, it's not much more dangerous than other outdoor work," said the 30-year-old Hu, who previously worked as a fireman in Jiangsu province.
Hu has two ropes supporting him. One is a safety line usually shared by two cleaners, the other is the main rope holding him up. Both are specially made with added strength that can hold 450 kg.
There is another safety feature called the Jumar, a device also used in rock climbing. It is locked onto the rope and attached to the body harness, and will hold him if he accidentally slips from his plywood chair.
"As long as you're doing it correctly, you're about as safe on that rope as you are in an elevator," he said.
As the ropes are Hu's lifeline, he spends half an hour checking them before each shift.
"Each person has his own rope. We don't share it. If there's any dirt, frays, anything of that nature, we'll just discard the rope and buy a new one," he said.
In fact, there are standards for high-rise window cleaning which stipulate what methods and equipment should be used. Before anyone can take the job, they must also take government exams and get a work certificate.
Despite these safety measures, the job is still reserved for the brave. As a fireman, Hu received training he could apply to being suspended hundreds of meters above the sidewalk, but it still took him a whole month to overcome his fear of heights.
Related readings:


 China has 'sufficient labor pool for next 40 years'


 Students internship encouraged to ease labor shortage


 Labor conditions that puts people first


 Migrants cash in on labor shortage 


 Cleaner collapses after days of snow sweeping
Every year Hu sees co-workers quit, saying they are mentally incapable of continuing.
"It's really scary at the beginning," Hu said. "They let me start with 6-story buildings to ease me in."
The key, he said, is to keep doing it day in and day out and trust the safety measures.
Now Hu, who has cleaned more than 250 high-rises in his six-year career, has mostly dispelled his fear of being in the sky and has picked up a love for his job.
It does not pay well - about 4,000 yuan ($585) a month - but Hu said the privilege of discovering the beauty of Shanghai from various angles is the main reason he has kept doing it for six years.
"Shanghai is a really beautiful city, beautiful from every angle," Hu said.
"From different buildings you see different faces of Shanghai. The cityscape of Shanghai is ever-changing, you never get bored."