CHENGDU: Diners in Chengdu, capital of Sichuan province, who are upset over the local government's delayed release of the names of 13 hot pot restaurants that may use illegal cooking oil, have accused officials of helping to cover up the truth to protect the city's prime industry - catering.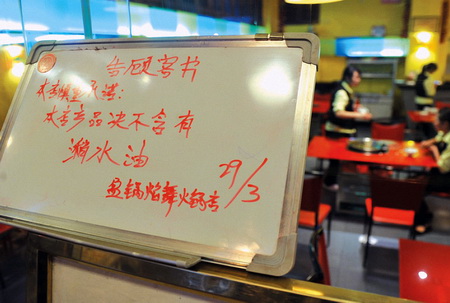 A hot pot restaurant in Chengdu, Sichuan province, posts a notice on Monday, claiming it does not ues illegal recycling oil made from kitchen wastes for cooking. [China Daily]
On the evening of March 12, a TV program in the city unveiled the production and sale of illegal cooking oil in the underground market and announced a list of more than 20 famous hot pot restaurants that use swill oil.
The city's food safety office on March 28 said it would punish 13 hot pot restaurants that were found to be using questionable oil, though it did not reveal their names, triggering strong criticism from the public, who said it is essential to disclose the restaurant's names.
Related readings:


 Illegal oil a 'hot' business


 Old oil used in '1 in 10 meals'


 Million tons of swill-cooked oil back on table

On the same day, a netizen posted a list of 13 hot pot restaurants, which are the most famous in Chengdu.
Facing pressure from the public, the food safety office called an emergency press conference on Monday, announcing its version of events involving the 13 hot pot restaurants that allegedly use questionable oil.
While the food safety office's list differed from the list previously posted online, it included several of the city's most highly rated hot pot restaurants.
However, Zhou Rong, chief of the city's food safety office, did not acknowledge the 13 restaurants used illegal cooking oil, but asserted that they used synthetic sesame oil, which is made from corn oil and is edible.
According to Wan Yuping, chief of the food test center under the city's quality inspection institute, the synthetic sesame oil does not contain harmful substances.
Despite this assurance, local diners believe illegal cooking oil made from kitchen waste is widely used in hot pot restaurants.
A middle-aged woman in Chengdu surnamed Xu is a great fan of hot pot cuisine and used to visit a hot pot restaurant at least once a week, but said she would not dare frequent them anymore.
"The bubbling red soup would remind me of kitchen waste, which would make me feel sick," she said.
Huang Suzhen, an elderly chef, told China Daily restaurants commonly use illegal oil made from kitchen waste.
Some restaurant owners, who embrace the practice to reduce costs, were ignorant that the deadly toxin found in swill oil was aflatoxin, she said.
Aflatoxin is among the most carcinogenic substances and is 100 times more poisonous than the prohibited white arsenic, experts said.
Local media reports said nobody in the 20-plus hot pot restaurants suspected of using swill oil would grant interviews.
Officials from the Sichuan provincial and Chengdu municipal bureaus of food and drug administration had also previously refused to be interviewed by the media.
Instead, they told reporters not to ruin Chengdu's image as the "city of gastronomy", a title it received from the United Nations Educational Scientific and Cultural Organization on Feb 28.