More than 150 workers remain trapped after collier floods
XIANGNING, Shanxi - Rescue efforts made little progress amid showers here on Monday, two days after a flood trapped at least 153 workers at a State-owned mine in this coal-rich county.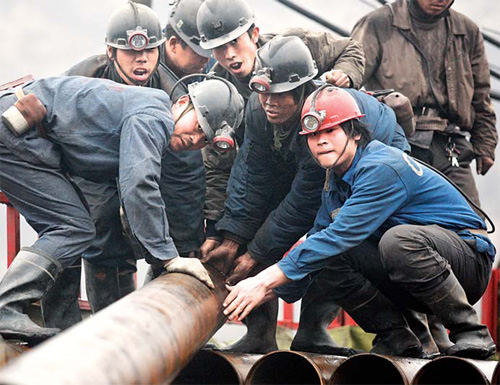 Rescue workers prepare steel pipes that will be used to pump water out of Wangjialing Coal Mine in Shanxi province on Monday. [China Daily] 
As of Monday night, rescuers were still busy installing more machines to pump water from more than 600 meters underground.
Although the death toll will not likely be immediately announced, the incident at Wangjialing Coal Mine could become China's deadliest coal mine accident since two mines flooded in Xintai, Shandong province, in August 2007, killing 172 in one case and nine in the other.
Related readings:


 Water stops rising in flooded coal mine in N China


 153 trapped in flooded mine


 Rescuers struggle to plug flooded N China mine

On Monday evening, more than 10 pumps operating around the clock were pumping up to 500 cubic meters of water per hour. Rescuers were trying to get huge pipes as long as 2,000 meters into the flood water to maintain ventilation, according to a China Central Television report.
"Pumping water out is so far the best way to save the trapped workers," Sun Shouren, who is in charge of the mine's construction work, was quoted as saying.
He said about 140,000 cu m of water - enough to fill 56 Olympic-sized swimming pools - was estimated to have flowed into the mine.
The report said as many as 1,600 rescuers are racing against time. But Sun said if 2,000 cu m of water could be pumped out per hour - a target they hoped to reach by Tuesday noon - they would still need three days to drain out the water.
"It took about a year for people in Xintai to pump all the water out," said a staff member with the State Administration of Work Safety, who said that at least another two days were needed to pump out water before rescue operations could begin.

A rescuer surnamed Wang, who spent more than half a day in the pit on Monday, told China Daily he had "no clue whatsoever" about how further down the men were trapped.
Here in Xiangning county, part of Shanxi's Linfen, a city notorious for fatal mine accidents and cover-ups, authorities say a flood occurred around 1:40 pm on Sunday after workers dug a hole into an abandoned pit filled with underground water.
Investigations showed that 261 workers were in the pit of Wangjialing Coal Mine, which is under construction and due to start production five months ahead of schedule in October, when the water gushed in, according to rescue headquarters.
Of them, 108 were able to get out while 153 others were trapped in the shaft, the headquarters said.
Fan Leisheng, one of the workers who escaped, described the sudden rush of water that tore through the mine.
"It looked like a tidal wave and I was so scared," Fan was quoted by CCTV as saying. "I immediately ran away and looked back to see some others hanging behind. I shouted at them to get out. It was unbelievable because I got out from 1,000 meters underground."
Li Minfu, another surviving worker, had called other workers and told them to escape.
"I was still terrified after escaping from the mine, but felt a little relieved when I knew many co-workers also escaped because of my calls," Li said.
Local workers, though, claimed more people could be trapped. Hu Wenjie, an employee of China National Coal Group Corp (ChinaCoal), which has a 50-percent stake in the Wangjialing mine, said only one of his manager's four units escaped the disaster.
"There's about 50 to 70 people in each unit. And with dozens of units around this construction site, you do the math," said Hu, a 29-year-old worker from Hubei province.
Another worker claimed to have overheard several managers estimating late Sunday evening that more than 260 people were still underground.
The tragedy has ripped this mountainous county apart. Officials say 53 of the trapped were local residents, while others were from Hebei, Hunan and Guizhou provinces as well as other parts of Shanxi.
Vice-Premier Zhang Dejiang, Shanxi's Party secretary and governor, as well as top work safety officials, had rushed to the site to monitor rescue and relief efforts by Sunday night - a standard procedure for disasters with a death toll of more than 30.
President Hu Jintao and Premier Wen Jiabao have ordered local authorities to spare no effort to save the trapped and guard against secondary accidents.
The Wangjialing mine is part of Shanxi's mammoth endeavor to transform its disaster-plagued coal industry. Aside from ChinaCoal, the Shanxi Coking Coal Group Co Ltd also owns half the mine. The deceased and trapped workers all belonged to ChinaCoal's division 63, which had been building the mine.
Last April, Shanxi launched a massive campaign against privately-owned, often small mines with lax safety standards in a bid to upgrade the coal sector and reduce mine disasters. The current Shanxi governor, Zhang Jun, is a former director of the State Administration of Work Safety.
Similar efforts around the country have helped reduce the industry's death toll from almost 6,000 in 2005 to less than 2,700 last year. Now Shanxi's aim is to cut the number of its coal companies from 2,200 to around 100 by the end of this year.
The focus of mine accidents has shifted in spite of these efforts. Three of last year's deadliest coal-mine disasters happened at large State-owned collieries.
Xiangning is a major coal producer in Linfen, which has had five mayors in five years. Shanxi, too, has seen four governors over the same period. Most of the replacements and firings had to do with fatal mine accidents and failed attempts to cover them up.
Lan Tian contributed to this story.