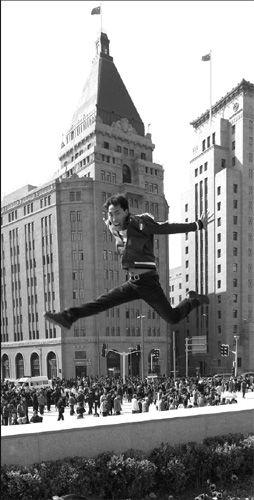 A man jumps over a garden at the Bund on Sunday, as the iconic landmark of Shanghai reopened to the public after two years of renovation. [Gao Erqiang/China Daily]
SHANGHAI - The Bund, the iconic landmark of the eastern economic hub of Shanghai, officially reopened to the public on Sunday.
The renovation work, which cost an estimated 5 billion yuan ($732 million) and took two years to complete, is a key part of the municipal government's facelift for the Shanghai Expo, which begins in May.
"The principle of the renovation this time is to turn the Bund from a vehicle-dominated area to a pedestrian-dominated area, freeing the historical buildings on the Bund from the turmoil of the traffic," said Jiang Shujie, the deputy director of the Shanghai municipal construction and communications commission.
The 11-lane highway in front of the Bund, which is home to more than 50 buildings of various architectural styles ranging from Gothic to Art Deco, has been cut down to four lanes, with 70 percent of the Bund's traffic diverted into a two-tier underground tunnel.
The popular waterfront promenade has been lengthened to 2.6 km and made more pedestrian friendly by adding 2,000 park benches and various amenities such as vending machines and nursing rooms.
A new financial square has also been built as part of the local government's plan to make the Bund the financial heart of Shanghai.
The new 7,000-square-meter area, guarded by a bronze bull created by Italian-American sculptor Arturo Di Modica that mirrors the Charging Bull on Wall Street in the United States, will feature an outdoor plasma screen showing the day's share prices for China's three stock exchanges in Shanghai, Shenzhen and Hong Kong.