BEIJING - Next time you say the word da bao (box it) at a restaurant, be aware, you could end up with a life-threatening disease. At least, that's what an expert in food packaging claims.
According to Dong Jinshi, vice-president of the Hong Kong-based International Food Packaging Association (IFPA), about half of the disposable dishware used in the country are unsafe, with excessive amounts of chemicals that can cause cancer.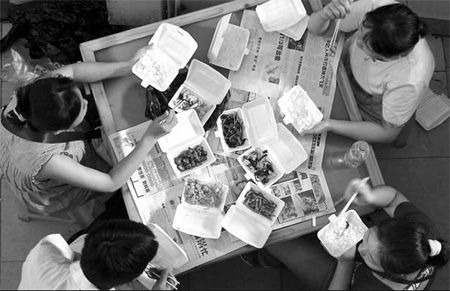 People eat food out of disposable containers in a market in Haikou, Hainan province. [HUANG YIMING / CHINA DAILY]
The situation in big cities is better, he said, adding that about 30 percent of disposable dishware found in Beijing is substandard.
Dong said his figures are based on a nine-year research project conducted by his association, in addition to some documents from the country's top quality watchdog - the General Administration of Quality Supervision, Inspection and Quarantine.
According to an IFPA report released this month, the Chinese use 15 billion disposable food boxes - either made of foam, plastic or paper pulp - each year.
The latest case of unsafe disposable dishware Dong's team detected was on March 3. The researchers visited two famous restaurants - the 170-year-old Laobian dumpling restaurant and the Dong Laishun restaurant - in Beijing and requested some disposable dishware.
The samples were then sent to the Beijing Center for Physical and Chemical Analysis, where tests indicated that the boxes contained excessive amounts of minerals, such as talcum powder and ceresin wax, which contains a substance that can cause cancer.
Zhang Zhisheng, a lawyer from the Beijing Zhongyin Law Firm, confirmed Dong and his team had filed a lawsuit against the two restaurants at the Haidian district people's court, accusing them of selling poisonous foods.
"This will be the first case in which the newly issued Food Safety Law will come into play in consumer rights protection, Zhang said.
He added: "Consumers might not be willing to go to court for something cheaper than 1 yuan, which partly resulted in the manufacturers' weak legal consciousness."
Dong said the situation in small cities and rural areas may be worse, since laws and regulations are not as well implemented as they are in bigger cities.
"The situation in small cities and rural areas in the northeast and northwest regions could be the worst," he said.
Dong also said that less than 10 percent of the disposable dishware sold in the market is made of paper pulp, which is generally safer but more expensive. The foam and plastic boxes each take about 45 percent of the market share.
China has banned the sale and use of disposable dishware made of foam, as it is more likely to be made of plastic wastes.
As for the plastic boxes, Dong said a large number of them are actually made in small plants that do not have production licenses.
The high profit margin drives the illegal business, he said, adding that the wholesale price for an ordinary disposable food box is at least 0.15 yuan, whereas a low-quality one costs half that.
However, food experts said the management of disposable dishware is in the hands of at least three government departments, which makes it hard to effectively spot violations.
According to existing laws and regulations, the production of disposable dishware is the responsibility of quality control authorities, but when the products enter the market, the industry and commerce authority takes over.
It then becomes the health department's responsibility to supervise restaurants that hand out such products.