Lack of interest and resources putting China's ancient skills on the verge of extinction. Zhang Yuchen in Beijing reports.
Yao Fuying, a master of traditional Chinese embroidery, once had as many as 10 apprentices under his wing, each of them desperate to learn a craft that dates back centuries. Today, he has none. Not even his son has continued to learn the art.
At 67, Yao knows he is running out of time if he wants to make sure his skills do not die with him.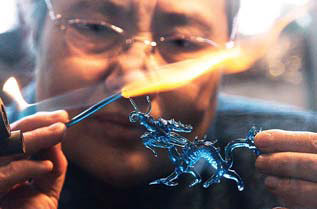 Xing Lanxiang, a master of glass art in Beijing, is absorbed in work. [YANG SHIZHONG / CHINA DAILY]
All apprentices took up jobs selling insurance or healthcare products, he said. "No one wants to learn old skills like embroidery. This must all seem very boring compared to the exciting activities and colorful lives people lead today. People are more fickle. It also doesn't help that demand for these kind of products is lower than ever."
Traditional arts masters, or da shi, are in China "true priceless treasures", say culture experts, yet their rare skills are slowly being confined to history due to a lack of interest, resources and government protection.
Of the 1,865 recognized varieties of handicrafts, 28 percent are facing difficulties, 13 percent are endangered and 6 percent have virtually disappeared, according to a 2009 report by the China Arts and Crafts Association.
The descendent of an embroidery master for the Qing Dynasty (1644-1911) emperors, Yao used to work at factory in his native Beijing. "Most products were shipped abroad and everyone there worked with enthusiasm," he said. "Things got steadily worse during the 1990s and the factory went bankrupt."
Yao once spent two years making a fine gown embroidered with nine dragons, the symbol of the emperor. Now, with failing eyesight and shaking hands, he has decided to hang up his needles for good.
"I've done all I can," said the elderly man, who had kidney surgery last year. "Even though I worry about it, the future of hundreds of years of skills is too much for me to manage."
Yang Fuxi, 53, is the son of traditional Manchu bow master, Yang Wentong, who died in 2006, just five days before the handicraft was included on the nation's first list of intangible cultural heritage skills. The art has been in the family for 10 generations and, although business at his Juyuan workshop in Beijing's Tongzhou district is good, Yang Fuxi still fears for the future.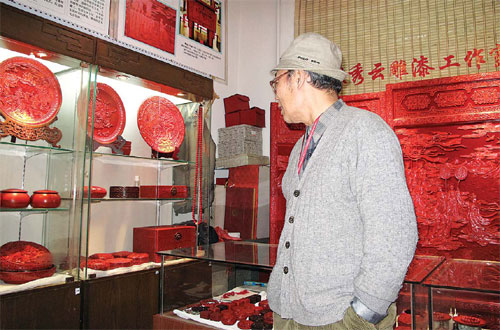 Wang Baolu, manager of the Yin Lacquer Studio in Baigongfang. All the store's wares are made by Yin Xiuyun, Wang's wife and one of the few masters of lacquer carving still left in Beijing. [ZHANG YUCHEN / FOR CHINA DAILY]
"I studied bow making with my father all my life but I still didn't have enough time to learn all of his skills before he died. I still don't fully understand it all," he said, sitting in his 200-square-meter rented studio surrounded by tools and half-finished bows. "A student can only learn 80 percent of his master's skill. That means 20 percent is lost every generation. I'm afraid there will be nothing left for future generations."
Making a traditional Manchu bow involves 20 different materials and 200 steps, which take about five months to complete. Yang Fuxi is already attempting to pass on his skills to his 23-year-old son, Yang Yi.
"Each craftsman has a unique way of communicating with his or her tools and materials. He devotes himself to creating the art, and as a result most crafts cannot be duplicated in large quantities as souvenirs for tourists," said Chen Xiaorong, author of Beijing Master, which looks at the history of handicrafts in China. She said that since her book was published, several da shi she interviewed have died, taking their skills with them.
Cultural crafts experts also argue the master-student model of transmitting intangible cultural heritage may have already become outdated.
"As more crafts are 'fossilized' and only exhibited in museums, to better solve this issue we need to close the gap between masters and consumers," said Tang Shukun, an expert in traditional handicrafts and executive director of the college of humanities and social sciences at the University of Science and Technology of China in Hefei, Anhui province. "We have to open training institutes where masters can teach these skills to more people."
A severe shortage of resources needed to make certain handicrafts is putting further strain on practitioners of traditional skills nationwide.
Ivory carvings have been popular in Asia and other parts of the world for centuries, yet as the supply of ivory dries up, craftsmen and women have had to adapt their skills to other materials, such as wood and animal teeth.
"Ivory carvers can easily adapt to other materials but people skilled in other materials seldom excel in ivory carving. It is very different," said Ding Zhenjing, 57, a retired Beijing Ivory Carving Factory worker.
The United Nations' cultural protection group, UNESCO, last year donated 108 tons of African ivory to China in an effort to protect the traditional skill. The Beijing Ivory Carving Factory was able to take on six graduates as trainees, "but no one can guarantee where the next supply will come from", said Ding.