The long-term drought in the southern Chinese sugar-producing region of Guangxi challenges not only the emergency response from the central government but dozens of the elderly.
Since last November, 15 old men in Nonghuai village, Donglan county of northwestern Guangxi, have plodded along more than 20 km on the mountain roads every day to carry water back home.
Related readings:

 $18m emergency loans for drought-hit Yunnan


 HK approves grant to help drought victims


 Drought continues in SW China


 Latest updates on SW China drought


 Severe drought worsens in SW China
Huang Zhengguang, 92, gets up early in the early morning and sets out at 6 o'clock. Taking along an empty bucket, he has to fetch water from the sole water station in town for his old wife and three teenaged grandchildren.
Age has clouded his vision. The aged man makes his way through the rough road slowly and carries just 15 kg of water, once a day. It takes him more than 12 hours to make the 12 km round trip.
"To save water for my grandchildren, I barely wash my face," says Huang, whose son and daughter-in-law have been migrant workers for nearly eight years.
Poverty has uprooted the able-bodied young people and taken them to big cities for better earnings, leaving the elderly and young children in remote mountainous areas.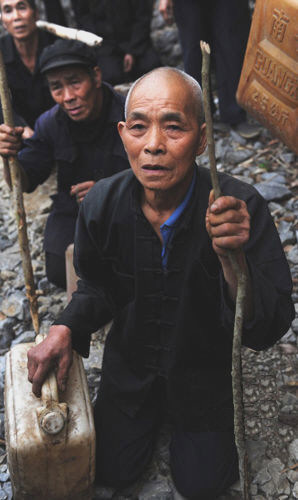 Huang Zhengguang (front), 92, from Nonghuai village, Donglan county of northwestern Guangxi Zhuang autonomous region, gets down on his knees, together with 14 fellow villagers, begging the government to repair the road on which they go to fetch water. [Photo/dahe.cn]
Because public roads are still under construction, vehicles can hardly reach the village, let alone water wagons.
There are two other villages suffering from the water shortage, Jigao and Nongdu, and the latter is the most remote village, with a 24 km round trip.
70-year-old Huang Datian from Nongdu has struggled for months on the rough and rugged paths.
The long distance almost prostrates him. With 25 kg of water on his back, Huang spends nearly six hours on the road and has to stop a dozen times to gather his strength.
He also has to care for his old wife and two other handicapped family members.
Water is in great demand in every family and rationed carefully every day.
Huang Zhenggui, 82, uses little water to wash his face and feet, and saves the remaining water for pigs.
Suffering from a heart disease, 66-year-old Chen Tingxiang lives alone in Gaoji Village and is afraid that "I will die on the road."
Meanwhile, the fund that they raised for building roads was submitted to the local government five years ago.
According to villagers, the government guaranteed a road project in 2005 with a policy of fiscal subsidies.
The demand was established at 20,000 yuan ($2,930) per km and the shortage was supposed to be paid by the 450 people of the three villages, with an average of 2,000 yuan ($293) per family.
They collected more than 40,000 ($5,859) yuan and were ensured the project would be finished in one year.
"It's been 5 years and no progress. I doubt if our money was used on where it is needed most," says Huang Dahong, of Nongtai.
"There will be fewer frustrating twists and turns if the government's water station can reach the town," the old men say, crying. "We are no longer young and have little strength to take that part."