Hukou struggle is fueling frustration among new generation of workers. He Na reports in Beijing.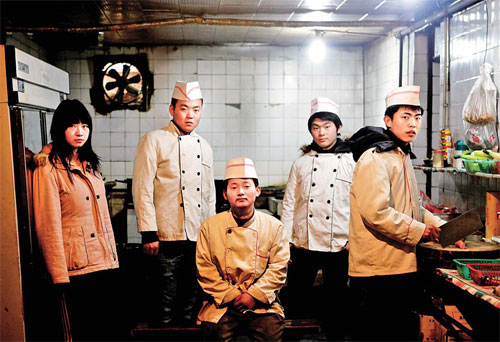 This picture taken over the weekend shows migrant worker employees at a Sichuan-style hot pot restaurant in Beijing's Shunyi district. [ZHANG TAO / CHINA DAILY]
Sun Wei was born and raised in far Northeast China, but you would not be able to tell from his strong southern accent. After more than six years in Shenzhen, a metropolis in Guangdong province, he said he has totally shed his "countryside skin" in an effort to fit in.
"I speak like this on purpose. Sounding like Shenzhen people is a way to protect myself," said the 28-year-old from Yong'an village in Jilin province.
However, despite his grand plans for success, changing his accent is one of the few things he can say he has actually achieved in more than half a decade in the city.
Sun quit his studies after graduating middle school and went through several jobs - barbershop apprentice, waiter, security guard, salesman - before heading south. Last year, he even borrowed money from family and friends to rent a 10-sq-m stall in a market to open an electronics store, but the business was a financial disaster and soon closed.
"I'm fed up with a life in which I am ordered around," he said. "Why was I born in a rural family and destined to do the hard work, while city youths live a comfortable life? It's unfair."
Related readings:


 A new generation of migrant workers


 Young migrant workers offered leg-up in market


 Young migrant workers reshape society
He is among about 100 million "new-generation" migrant workers who are growing frustrated by an inability to "better themselves" by gaining permanent residency in large cities, say analysts.
The term "new generation" - coined in 2001 by Wang Chunguang, a researcher with the Chinese Academy of Social Sciences' institute of sociology - refers to migrant workers born in the countryside in the 1980s and 1990s, who moved to cities straight after graduating from middle schools and were never involved in farming. The definition was later stretched to include children of migrant workers, who were born and raised in cities.
There are an estimated 230 million migrant workers in China.
Almost half were born after 1980 and about 40 million after 1990, according to figures from the Ministry of Human Resources and Social Security.
Young migrant workers are different from their parents. "The new generation has the greatest intention to become urban residents and their problems can only be solved by making them such," said Gu Shengzu, an economist and vice-president of the Demographic Society of China.
The flow of Chinese farmers can be measured in three waves over the past 30 years, he said. In the first wave, which started in the 1980s, they worked in their hometowns for rural enterprises. In the second, they left their villages for temporary work in cities. The county is now experiencing the third wave in which farmers are settling in cities and being joined by their entire families. However, Gu said many regulations, such as the hukou - registered place of residence - system, are blocking the flow of labor and causing frustration for rural people.
"I already thought I was a city man after living here for so long, but suddenly I don't feel like I belong to any group. As long as I'm classed as a migrant worker, I'll always be seen as a second-class citizen," said Sun. "Debt collectors visit my apartment every day. I hoped I could become a real member of the city through hard work but now it seems it is too hard."
Despite the budding entrepreneur's hukou being in the Jilin countryside, he has absolutely no experience of working in the fields and, if he had to leave the city, he said he would not know where to start with farming. "I feel like I have nowhere to go," he said.
Even people who were raised in cities by migrant worker parents are still registered in the countryside. Although their attitudes are different from previous generations, the opportunities open to those without hukou have not. Like their parents, they still must sweat it out on construction sites and busy assembly lines, or get menial jobs in barbershops, bars and restaurants.
"I would rather pick up trash in Shenzhen than toil the land in my home village," said Liao Fan, 22, a migrant worker who "fled the bad environment and transport networks" of Huaihua, Hunan province. "Most young people in my village have left for jobs in cities. When I go back home, there are no other young people and no fun."
Although he also hopes of one day getting hukou in Shenzhen, as well as a "decent job that pays a high salary" and a house, he said he knows it is a pipe dream.
Both old and new generations share the same experiences in terms of low salaries and poor living conditions, but at least the former has land registered to them in the countryside to fall back on. As land was divided at the early stages of China's reform three decades ago, most rural residents born after 1980 do not have any land.
"New-generation migrant workers hold rural residence but most of them do not have any experience in the fields," said Xie Jianshe, vice-director of the Guangzhou development academy under Guangzhou University. "They are not qualified to be farmers. They are used to life in the city but they don't have much education or skills. They are inferior to their city peers and have to do hard work with meager pay."
They may look like city slickers with their fashionable clothes and hairstyles, but without hukou, staying in the city is no easy option, say analysts.
The issue has not escaped the attention of the central government and was a major topic of discussion during the recent annual sessions of the National People's Congress and Chinese People's Political Consultative Conference (CPPCC). Premier Wen Jiabao highlighted the plight of new-generation migrant workers in his Government Work Report, in which he vowed to introduce measures to ease their burden.
In its annual guidance report on rural development, the State Council also urged governments at all levels to employ "well-targeted measures to handle the issue".
"Reform of the household registration system is crucial to solving the dilemma of these young migrant workers," said Su Liqing, former president of the All-China Federation of Trade Unions. "However, a system that has existed for more than 50 years cannot simply be cancelled overnight. Government officials need to work out more ways to help younger workers solve their most urgent needs, either through creating more jobs, raising the minimum wage or enhancing social security."
For a start, the central government should relax residence registration rules in small and medium-sized cities, said Gu. China has only 655 cities, compared to more than 10,000 in the United States, and "some of our 2,800 counties can be built into cities with populations of 100,000 to 300,000. Many migrant workers can become urban residents this way," he said. In small cities, the government can encourage migrant workers to start their own businesses, and provide incentives such as tax breaks and small loans, he said.