BEIJING - A 45-year-old professor at the prestigious Xi'an Jiaotong University in Northwest China's Shaanxi province was sacked on Sunday after six of his colleagues repeatedly posted letters to the university and on the Internet exposing his academic scandals.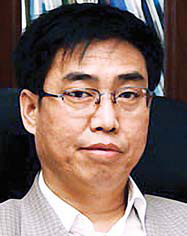 Li Liansheng, a professor at Xi'an Jiaotong University, who is involved in an acedemic scandal. 
"Due to the severe academic malpractice of Li Liansheng, the university has decided to abolish his title of professor and terminate him as a teacher," a statement published on the university's website announced.
Li's delayed punishment was meted out over two years after six colleagues made their first report to the university about the energy and power studies specialist plagiarizing the work of others in his application for the highest technology awards from the Ministry of Education.
Yang Shaokan, one of Li's colleagues who is among the six informants, first discovered Li's use of plagiarism because the research for which Li won the award was not in his field of expertise.
Yang shared his doubts with five other professors, including Yu Yongzhang, Chen Yongjiang, Feng Quanke and Qu Zongchang, who expressed their concerns.
However, the university turned a deaf ear to their reports, said Chen Yongjiang. "The university even questioned our motives," said Chen. "Some university leaders told us that we could share some awards with Li, if we kept quiet about the scandal. It was such a humiliation!" the 81-year-old academic was quoted by China Central Television (CCTV) as saying on Saturday.
Related readings:

 China cracks down on academic fraud, plagiarism


 Prominent university president accused of plagiarism


 Upstart mayor accused of plagiarism


 Photo 'plagiarism' causes chaos

"They said our reports upset university leaders and threatened us to give up before the situation grew worse," Chen recalled.
"It is about the reputation of Xi'an Jiaotong University and our country," Yu Lie, vice-chairman of the university's academic committee, explained in a record the six professors made about their allegations.
The university cancelled the awards application in March 2008 without providing an explanation to the public.
"I was told the university just temporarily postponed my awards application in the face of their argument," CCTV quoted Li as saying.
Using their real names, the six professors then exposed about 30 examples of Li plagiarizing the work of others online, which attracted more than 60,000 comments from netizens in a single month.
Under pressure from the Internet, university leaders communicated with the six professors a second time.
"You should stop sending related information to the Internet or the media and it is a good result for everyone," Lu Tianjian, vice-president of university, was quoted as saying.
However, the six professors, whose average age is over 70, did not give up.
The university was eventually forced to organize an investigation into the allegations in May 2009 and only recently clarified on CCTV that it was a plagiarism scandal.
In response to the allegations,, Li sued his former teachers who exposed his plagiarism on the Internet, blaming them for sabotaging his reputation, according to a July 2009 report in the Shanghai Daily.
Li's lawyer told Xi'an Beilin district people's court that the six senior professors used insulting phrases such as "academic thief" and "rat on campus" in their posts on a website about Li, the newspaper reported.
His counsel also demanded the six professors make a public apology and each pay compensation between 120,000 and 150,000 yuan ($17,600 to $22,000), said the report.
Li is an honored Cheung Kong Scholar, an award funded by Hong Kong billionaire Li Ka-shing and the Ministry of Education designed to honor talented professors in Chinese universities.
He also received second place in the 2005 National Science and Technology Progress Award.