Wei Shenglou, a farmer in Shaanxi province's Fuping county, said more than 1,000 of his chickens died when strong winds destroyed a coop on his farm on Friday night. "We seldom have such big storms these days. No one was prepared for it," he said. And in nearby Xi'an, the provincial capital, office worker Cao Min said her cell phone was covered with a thick layer of dust in the time it took her to send a short text message.
"It's not the worst," said Wu Bing, a journalist in Lanzhou, capital of Gansu province. "You know, that's what it's like in the west. We've got used to it."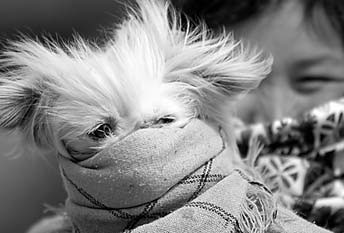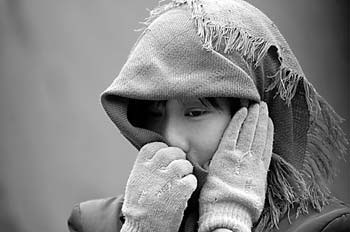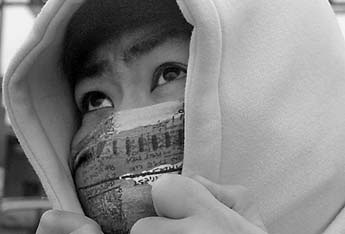 Residents in North China and their pets covered up to avoid breathing in the dust, which doctors warned can aff ect the eyes and respiratory system. [PHOTOS BY QI TA & XINHUA]
Parts of Northwest China, including the Xinjiang Uygur autonomous region and the provinces of Gansu, Qinghai, Ningxia and Inner Mongolia, were hit by another sandstorm overnight between Saturday and Sunday, meteorological officials said.
In Hotan prefecture in Xinjiang, visibility dropped to less than 300 meters and at least 14 regional flights linking Urumqi, the regional capital, with Hotan, Aksu, Kashi and Bayingolin prefectures were delayed, said Urumqi airport authorities.


"Visibility was about 10 meters at one point," said Wang Haizhou, 34, a farmer living in the city of Kuerle, northern Xinjiang. "We tried not to go out. If we did, we wore facemasks and glasses. We could see layers of dust at home even when all the windows and doors were closed."
The second storm is unlikely to cause another dusty day in Beijing, however, said meteorological officials. Frequent rain and snow this month has helped reduce the impact of sandstorms in the capital, as the humidity of local sand is still relatively high, said Zhang Mingying, a senior engineer with the city's weather bureau.
"I think this kind of natural disaster is caused by human activity but I don't know the exact reason," said Beijing resident Shi Chunyan. "I don't know exactly what we can do to prevent this."
Although sandstorms in the country have often been related to the Siberian cold front, scientists say deserts are the ultimate source of sandstorms. "Sandstorms won't disappear so long as there's still a source of sand," said Guo Hu, director of Beijing's meteorological bureau.
China is home to about 1.6 million sq km of desert, said Zhang Xiaoye, deputy director of the Chinese Academy of Meteorological Sciences, who insisted that the "vast majority had been there for hundreds of thousands of years".

"About 80,000 sq km of grassland turned into deserts in the past few decades with solid forestation and well-covered construction sand, the intensity of the dust and sand could be curbed. But essentially they can't be stopped," he said. "It's wrong to think cities with good forestation and conservation efforts could prevent sandstorms once and for all."
Among the many efforts to restore natural grassland and prevent sandstorms, the central government has invested more than 6.5 billion yuan ($950 million) to preserve grasslands in Inner Mongolia, according to local officials.
In 1978, the central government launched the Three-North Shelter Forest Program, the world's largest forestation project, to help stop deserts from expanding across the "three northern areas", which includes more than 98 percent of land affected by desertification in China and 96 percent of its sandy land. So far more than 53 million hectares of forests have been planted, official statistics show.
The Ordos Desert on the border between Yulin, Shaanxi province, and Inner Mongolia should have contributed far less to last weekend's sandstorm than before thanks to long-term woodland preservation, said Yao Zhongxin, an official with the Shaanxi provincial forestry bureau. "The Loess Plateau (which covers almost all of Gansu, Shaanxi, Shanxi and Ningxia) also has more grass and trees than before because there are now forests where farmland used to be," he said.
Although forestation projects have helped, experts say the work will take decades. "The challenges ahead are still huge," China stated in a report to the United Nations in 2006.
"Arid and semiarid areas can only support one or two people per square kilometer. In China, population density in these areas is over 10 people per square kilometer," Jiang Gaoming, a professor with the Chinese Academy of Sciences' institute of botany, wrote in an article for China Dialogue, an online environmental magazine, in 2007. The residents once were nomads "but now they have settled, increasing the pressure on the environment and inevitably damaging it".
Efforts to increase green space, as well as the public's awareness of the issue of desertification, are also being increasingly challenged by drastic changes in the climate.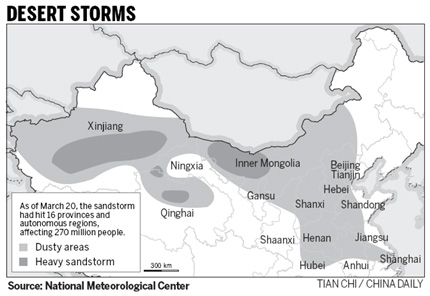 As dust continues to make its way south, Xinjiang in the far northwest is combating attacks of snow, floods and sandstorm, which together have caused chaos on the roads and in the air, said local government officials.
While the sandstorm hit at least four prefectures in the south of the region, the capital Urumqi and the northern prefectures of Ili, Altay and Tacheng were being battered with snow or sleet. At least two avalanches were reported on Saturday in the Ili River Valley, burying about 200 sheep and destroying more than 10,400 houses. No casualties were reported.
Meanwhile, 51 million people in southwest China are suffering from a drought that has reduced the area's annual average rainfall by about half since last autumn. However, although the drought has significantly expanded the area of dry land across the region, particularly in Yunnan province, where experts are calling the dry spell the worst in a century, meteorologists say without high windspeed, sand alone is not enough to cause sandstorms in southwestern parts of the country.
Lin Haiming, an ecologist with Gansu Agricultural University, said improvements in traditional farming methods could also help reduce the likelihood of sandstorms. About 70 percent of dust and sandstorms originate from rural fields, he said, noting that as a result of poor vegetation cover, dry topsoil could easily be picked up, blown away and carried by strong winds.
China's sandstorms were at their worst in the 1950s and 1960s after campaigns to raise farm and factory output stripped the soil of vegetation. Because of those campaigns, archaeologists have found that sandstorms are reducing some packed-earth sections of the Great Wall in western China to "mounds of dirt" that may disappear in 20 years.
The last great sandstorm hit Gansu, Ningxia and Inner Mongolia 16 years ago. Lasting almost a month, the stormed flattened more than 4,300 houses, killing 85 people and leaving another 31 missing.
Ma Lie in Xi'an, Yu Ran in Shanghai, Associated Press and Xinhua contributed to this story.