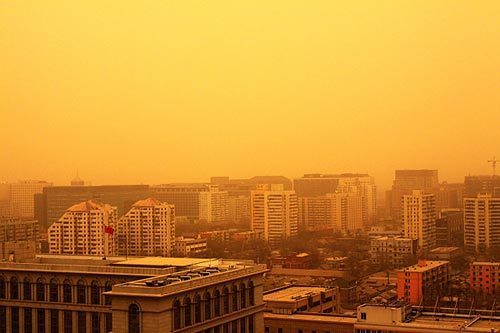 Beijing is wrapped in yellow sandstorm Saturday morning. [Photo/news.cn] 
Beijing is wrapped in yellow sandstorm Saturday morning. [Photo/news.cn] 
Slide
BEIJING - A severe sandstorm that plagued northwestern China in the past few weeks arrived in Beijing Friday night, packing strong winds and tonnes of sand.
Beijingers woke up to see clouds of yellow dust in the air Saturday morning. The loose soil and dust that had traveled hundreds of miles blanketed Beijing's streets, covering parked vehicles and making its way into apartment buildings.
"I was amazed to see the ground had turned yellow overnight," said Beijing salesman Li Ming. "It reminds me of the dirt road of my rural hometown."
Li's home province Gansu in the northwest is one of the areas that suffer the most from sandstorms.
Before it arrived in Beijing, the sandstorm had wreaked havoc Friday in the northwestern provinces of Gansu and Qinghai, as well as the Xinjiang Uygur Autonomous Region, the Ningxia Hui Autonomous Region and the Inner Mongolia Autonomous Region.
Related readings:


 Sandstorm hits north China's Inner Mongolia, Ningxia


 Sandstorm shrouds prefecture in Xinjiang


 Heavy sandstorm blankets Baghdad


 Sandstorm hits Inner Mongolia Autonomous Region


 NW China sandstorm shuts airports, schools
Beijing weather bureau sent an alarm Friday night, warning a sandstorm was "on its way". Yet many residents were utterly unprepared.
"Severe sandstorms like this happened very often in the 1980s and 1990s," said Beijing retiree Song Xiurong. "It hasn't been that serious in the recent two or three years, as far as I remember."
The dusty weather has reduced visibility significantly, but has not caused much trouble on the road Saturday, as most people have chosen to stay home.
Beijing weather bureau has also warned citizens to avoid going out, saying the polluted weather was bad for their health.
Beijing's air quality was rated a rare level 5 Saturday, meaning hazardous with pollution reading over 301, the bureau said on its website.