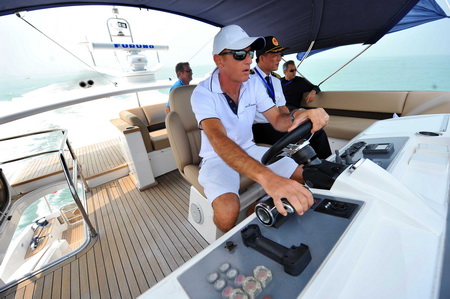 A captain controls a yacht on Friday during the Haikou Yachting Industry Forum. [Xinhua]
HAIKOU: Yachting, a synonym of luxury for flamboyant wealthy people, may become an increasingly viable option for Chinese people's leisure life, industrial regulators and officials said on Friday.
"In the coming few years, yachting will become a thriving recreational activity in China," said Haikou Mayor Xu Tangxian. "Governments of coastal cities should work out development plans for yachting tourism in time."
He was citing an industrial manifesto the China Communications and Transportation Association (CCTA) and the country's yachting organizations released during the Haikou Yachting Industry Forum that opened in the provincial capital of Hainan on Friday.
Industrial analysts have predicted China's yacht market may grow as fast as its automobile market.
Various luxury brands, including yachts, are enjoying huge growth in China. But compared to the highly prosperous automobile market, yachts are still a young industry and its target customers remain small in number. Therefore, it promises a huge potential, Fairtheworld, a professional 3D virtual expo and expo media provider, said in a report last July.
"China has entered a post-auto era With an increasing number of middle-class families, the yachting industry will experience rapid expansion," said the 2009-2010 China Yachting Industry Report, which was jointly released by CCTA's Cruise & Yacht Industry Sub-association and the Yacht Industry magazine on Friday.
The report proposed the government to reduce the taxes on imported yachts, which currently account for 40 percent of the total cost.
CCTA President Qian Yongchang said that now is the time for China to develop the yachting industry, even though at the beginning, the high-end recreational boats may be accessible only to high earners.
Industrial insiders said that during the beginning stage, it is unrealistic to expect the Chinese to purchase yachts with the same passion as they pursue cars or houses. Yacht renting will therefore be a major way that people can enjoy the luxury.
Last December, for the first time, the State Council, China's Cabinet, asked governments at various levels to foster yachting when developing tourism.
In January, the State Council asked Hainan Island to work out yacht management regulations and prepare to serve foreign yachts.
Chen Ci, Party chief of Haikou, said on Friday that the port city will take the lead in applying international practices when formulating regulations on yachting, exit-entry management and marketing of the recreational boats.
Haikou will build 1,000 wharves for the pleasure vessels in the next 10 years, with 400 expected to be complete by the end of this year, he said.
CHINA DAILY