As towns destroyed in Sichuan earthquake rise again, many survivors need more time to recover from the stress, say mental health experts. Hu Yinan reports from Sichuan.
When Luo Bing learned in 2006 that his 17-year-old son had been accepted into the armed police in Aba, a prefecture of Sichuan province, he could not have been happier. He believed the job would prepare his boy for life in a brave new world. Two years later, his son was dead.
On May 12, 2008, teenager Luo Xing and six other officers were killed while on guard in Yingxiu - the epicenter of the devastating magnitude-8 earthquake in Sichuan.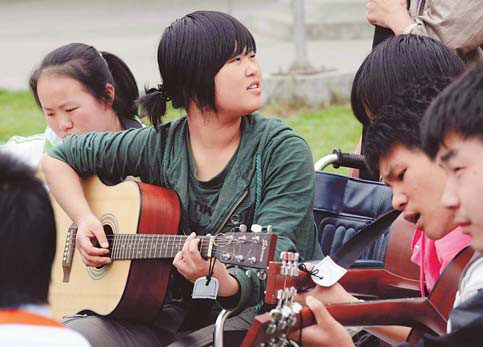 The Sichuan earthquake left many students in Beichuan Middle School handicapped. The wheel-chair bound teenagers formed their own guitar band to use music to soothe their wounds, both physically and psychologically. [Yu Ping/For China Daily]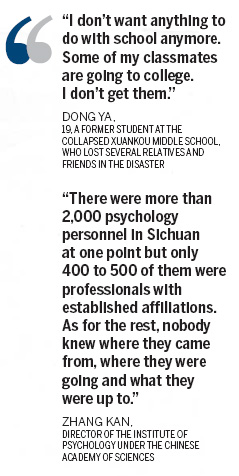 Luo Bing, 43, kept his son's death a secret from his family for more than a year. He knew the trauma would be too great. His own father heard through neighbors late last year and died within a month. "Our family has had only one son in three consecutive generations," said Luo Bing as he stood over his son's cenotaph in Yingxiu.
The 2008 earthquake, China's deadliest for decades, killed 69,227 people and left another 17,923 missing. But while the towns and villages destroyed in the disaster can be rebuilt, experts say ensuring the mental recovery of those touched by the tragedy is far more difficult.
Xu Kun, who runs a free mental health hotline for elderly people in Dujiangyan, one of the cities worst hit by the disaster, estimates about 15 million people in the disaster zone need psychological treatment. A report by the China Association for Promoting Democracy last week also said that up to a million children and adolescents in Sichuan, Gansu, Shaanxi and Chongqing have shown symptoms of post-traumatic stress.
The National Development and Reform Commission (NDRC), the country's top economic planning body, announced last December that the State had trained 50,000 therapists to help counsel survivors, including more than 400 grassroots personnel under the Ministry of Health.
However, as the province is transformed amid epic construction fueled by central government spending, efforts to help survivors deal with the tragedy may be falling short, say experts.
Despite his deep emotional wounds, Luo Bing, is not eligible for the subsidies available to survivors as his home in Guangyuan, Sichuan, was undamaged in the earthquake. Nor would any mental therapist automatically approach him or the relatives of the servicemen killed with his son. Luo, though, said that does not concern him. "My son's already dead. What would I do with therapy?"
For months after the earthquake, counseling groups from home and abroad thronged the disaster zone. Tens of thousands of psychology students, private business people, and State-owned enterprise staff paid short visits and each claimed to be able to help the survivors.
"There were more than 2,000 psychology personnel in Sichuan at one point but only 400 to 500 of them were professionals with established affiliations. As for the rest, nobody knew where they came from, where they were going and what they were up to," said Zhang Kan, director of the institute of psychology under the Chinese Academy of Sciences (CAS).
Some people treated survivors like research subjects and left as soon as they had collected the data they needed, he said. "It was unethical."
Wang Changbing arrived in Yingxiu, his wife's hometown, from Henan province shortly after the disaster and has run a restaurant there ever since. He added: "Only a few were genuine volunteers, like the undergraduates. The majority of elder 'volunteers' came looking for business opportunities."
Most mental health support teams began pulling out of Sichuan when reconstruction started last May. However, reports of suicides and violence have continued to hit the headlines, especially in Beichuan, the county that witnessed the most devastation.
Dong Yufei, 40, the county's agriculture director, and 33-year-old Feng Xiang, its deputy publicity chief, both hanged themselves, Dong in October 2008 and Feng last April. Feng, who lost his 8-year-old son in the earthquake, left a note to his wife that read: "Depression shall take away all sorrows when it takes me away."