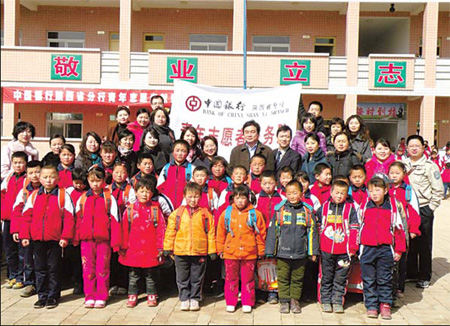 Padma Choling (right), governor of the Tibet autonomous region, at a press conference on the sidelines of an ongoing session of the National People's Congress on Sunday. [Feng Yongbin/China Daily]
Water more expensive than beer, people living in shabby caves and gullies blocking the way out - that was what the poverty task team of Bank of China (BOC) saw eight years ago in the dry areas of northwest China's Shaanxi province.
With a total population of 840,000 over 4,200 sq km, the four counties of Yongshou, Changwu, Xunyi and Chunhua in the southern edge of the Weibei plateau region are all State-level poverty-stricken counties. In the 858 villages under them, 639 are the poorest on the State-level, with an average annual per-capita income between 500 and 600 yuan.
Water shortages
When BOC's poverty task team first came to the four counties to investigate eight years ago, they were astonished. "Living conditions in the four counties were so poor, people either chose to fetch drinking water from more than 5 kilometers away or from kilns," a team member recalled.
"Many families can't even afford to build a kiln, which will cost about 200 yuan," the team member said. But the water is no good. "Strong young men like us suffered from diarrhea after drinking water from a kiln," he added.
"We would rather give him a piece of steamed bread than a drop of water when we have a guest," a farmer from the Weibei plateau region said.
Five years ago, when another investigation team of BOC came here, a leader of a village searched the whole area for drinking water but found nothing. He finally bought some beer to ease the team members' thirst. "Drinking water is more valuable than beer here," a source said.
In Machengsi village of Changwu county, the 150 villagers' source of drinking water was just a small stone pit, which was barely visible. People lived on water that slowly dripped into the pit from narrow rock tunnels. A villager recalled that sometimes it would take more than 45 minutes to get two barrels of water, and people were seen day and night around the pit waiting for water.
The situation for Wangjiazui village in Yongshou county was even worse. You couldn't find a single drop of water there. People had to buy water from a village 3 km away. When the nearby village's drinking water was also in short supply, they had to buy water at a very high price from Guantou township in Qianxian county, which was 15 km away.
"Water shortage is the main reason for Yongshou county's poverty," a source from the county's poverty relief office said.
Liugou village in Changwu county had enough drinking water but the fluoride level was very high, which proved harmful to people's health. In a medical examination for the village's pupils, 70 of the 120 examined were found to have Kashin-Beck disease.
People living in the Weibei plateau usually had to store rainwater in the autumn, when most of the year's rain fell, to use for an entire year until the next autumn's rains.
Poor living conditions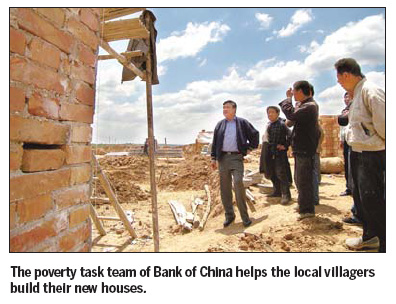 People in the Weibei plateau made their cave dwellings, which sheltered generations, by digging a big hole in the ground and digging several others from four sides. There were no machines so everything had to be done by hand.
"It usually took five years to completely finish constructing a cave dwelling, as we live in it at the same time," said a villager from Zhuangtou in Yongshou county.
Because the soil on top of the caves was loose and the distance between caves was short, the dwellings were not always stable. More than 10 caves collapsed in Zhuangtou village after a rain that lasted for 20 days, claiming the lives of all three people in Yang Shenggui's family.
Perhaps because of the poverty, more than 30 young and middle-aged people in Machengsi are still unmarried. "No weddings have been held for the last 10 years in our village," said Zhang Xinglong, the village's Party secretary.
Transport challenges
High mountains and deep ravines form the four counties' main geographic feature. There is a ravine every one km on average. These ravines not only make it difficult for the area's residents to travel, to get medical services and to enjoy an education, but also badly hamper its economic development.
Xunyi county's Chemen village, which has more than 500 mu (33.3 hectares) of apple orchards, is only 1.5 km away from the national highway on the map, but because it was so hard to reach, apple dealers preferred to buy from farmers near the highway at higher prices. Apple sales account for 80 percent of the villagers' total income.
Fighting poverty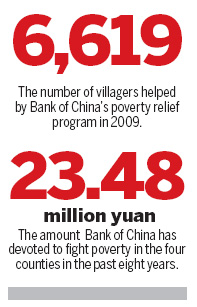 BOC has devoted 23.48 million yuan to fight poverty in the four counties in the past eight years. It has built 21 schools, 19 water projects and 28 villager-relocation projects in the area. In 2009 alone, the bank's poverty relief program helped as many as 6,619 villagers with their living difficulties.
As of the end of 2009, the bank had provided 8.93 million yuan for the area's water projects. When news first came several years ago that the bank would invest 200,000 yuan in digging a well in the area, villagers were very excited. When they first saw water come from the well, many people cried with joy.
"The deep well invested by Bank of China can generally meet villagers' demand of drinking water," said Wang Bo, Party secretary of Wangjiazui village, at the scene when water first came from the well. "The water is good!"
The bank also helped villagers move out of their old caves, which were scattered over a large area. Trying to provide every family with water, electricity and broad roads would be very costly, so the bank decided to work with the local government to move the residents into new locations and new houses.
It was estimated that building a new house would cost about 30,000 yuan in the area. The bank offered 5,000 yuan to each family that was going to move and 1,000 yuan to each family member.
For example, if a family has five people, it would get 10,000 yuan for relocation. If the family takes that 10,000 yuan and then borrows the rest, their new house could be built and the money borrowed could be paid back from the money earned from selling apples.
As of the end of 2009, the bank offered the four counties 5.54 million yuan for the relocation project and hundreds of families moved from the old caves into new houses, ending the life of the cave dweller that had lasted for thousands of years, sources said.
Another source from the bank said in 2010 they increased the relocation sum from 5,000 to 10,000 yuan; the additional 1,000 yuan offered to each person was not changed.
In recent years, BOC has also invested more than 1 million yuan in improving the areas' transportation conditions, a source said.
The bank also invested 180,000 yuan in building a new road for the apple-rich Chemen village, and villagers were soon able to make a living selling more apples. The road brought the village 80,000 yuan indirectly from apples alone, a villager said.
The bank's poverty relief funds were used in closed operation to ensure that no money was misused. Each project in the area has been successful, and they have all been completed.