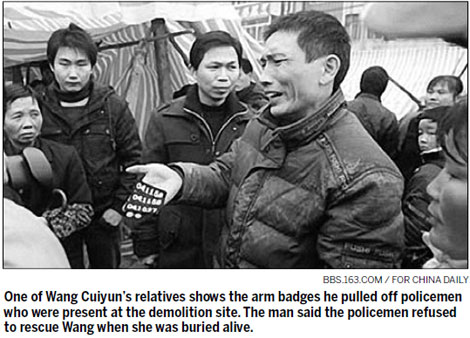 WUHAN - Local police have launched a probe into the latest case involving forced demolition in which a 70-year-old woman died on Wednesday after clashes with construction workers.
Wang Cuiyun, a 70-year-old villager living in Huangpi district of Wuhan, capital of Hubei province, died on Wednesday morning in a hospital from injuries inflicted at a local demolition site, according to a statement posted on the website of the district government on Friday.
Wang clashed with construction workers hired to carry out a forced demolition near her home, local media reported on Friday.
"Local police have started investigating the case," said Li, a director at the local community office who only wanted to give his surname. He declined to provide details on the cause of the incident.
The police have also put the people involved in the case under surveillance, the district government statement said.
Wang's family earlier accused the construction workers of a series of wrongdoings that led to her death.
During their protests, Wang's family members "laid the woman's body on a street twice, blocked the traffic and gathered crowds for two days", Li said.
The local authorities are trying their best to help resolve the dispute, he said.
But the family has asked for various kinds of compensation including cash, in amounts that Li said were "unacceptable".
A man hit Wang with a stick from behind while she was scuffling with the workers to prevent them from digging ditches around her home, the Changsha-based Xiaoxiang Morning Post reported on Friday, quoting a woman surnamed Huang who claimed to be Wang's daughter-in-law.
Wang lost her footing and fell into the ditch, Huang told the newspaper. An excavator happened to be filling the ditch with earth, burying Wang.
Wang's son, husband and daughter-in-law rushed to try to dig her out, the newspaper reported.
They reportedly pulled the woman out of the ditch after digging for 30 minutes but failed to save her.
Huang said the family had kneeled on the ground and begged for the workers' help, only to see them fleeing the site.
Li confirmed that Wang had been buried in the ditch, but said that she was buried for one or two minutes.
In the statement, the local government promised to timely publish the results of the investigations into the incident.
A string of similar cases related to house requisitions, with a number of them also involving deaths, has prompted the central government to consider introducing new rules to address these issues.
In November last year, Tang Fuzhen, a 47-year-old woman in Chengdu, capital of Sichuan province, committed suicide by setting herself on fire to protest the forced demolition of her house.