On March 3, China Daily and China CYTS Tours Holding Co., Ltd. signed a strategic partnership agreement in Beijing, announcing that they will cooperate on external publicity and promotion for Chinese tourism, culture, business travel management and conference activities.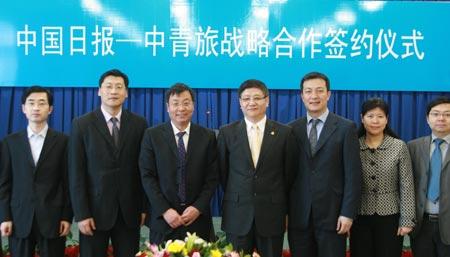 Kang Bing, deputy chief editor, Ren Kan, editorial assistant of China Daily, and Ding Qiang, Supervisory Board Chairman, Guo Xiaodong, vice president of CYTS were among a number who attended the signing ceremony.
China Daily is a main force in delivering China's news to the world, it owns the authoritative English language daily newspaper China Daily and nine other publications. Furthermore, it also has the China Daily website, which is a key national Network. China Daily possesses abundant and unique media and customer resources, which is the preferred channel for overseas political groups, businesses, think tanks. It also provides foreigners with information while in China, with many intelligent readers.
As the first A-share listed companies in China's travel industry, CYTS, established in 1997, has reshaped business processes and promoted the tourism industry through market segmentation. CYTS is becoming a large-scale international tour operator at a world-class level. ChinaTravelDepot.com, wholly owned by CYTS, serves the foreign inbound tourism market, offers tours related services for foreigners travelling in China. It is the first domestic real-time network and integrated tourism e-commerce reservations platform, through which people can freely customize tourism products. CYTS International Business Companies provides professional travel management services for domestic enterprises and institutions, has contracted services for business travel for more than 200 clients.
After the establishment of strategic cooperative partnership between China Daily and CYTS, the two sides will work together through the Internet, newspapers, large-scale promotional activities in various forms for overseas publicity and promotion of Chinese culture and tourism products and services, which can contribute to better show China's excellent image and promote Chinese voice to the world.