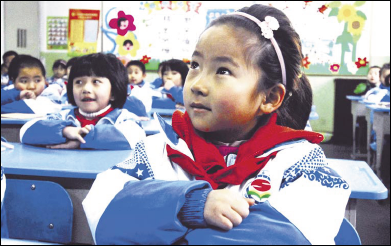 Pupils attend classes at Shuicheyuan Primary School in Lanzhou, capital of Northwest China's Guansu province, last Thursday when schools in the city opened.[Pei Qiang/For China Daily]
Changes neededto reform educational bureaucracy, says Premier Wen
BEIJING: The Chinese government has vowed again to increase its spending on education to four percent of the country's gross domestic product (GDP) in 2012, a target previously set in 1993.
The pledge was included in the National Outline for Medium and Long Term Educational Reform and Development (2010-20), which was released on Sunday by the State Council.
Related readings:


 Education still to get its due


 Put focus on education


 Wen seeks opinions on draft of education reform plan


 Equal education targeted: Wen
The outline, which addresses almost all major issues ranging from the education system and the quality of teaching to school enrolment, is expected to be a leading document for educational reform and development over the next 10 years.
It will be open for public comments in one month.
"Though it takes time to realize the target of four percent, China has performed better than the international average in regards to its education expenditure's proportion of fiscal expenditure from 2004 to 2008," Ding Xuedong, vice-minister of finance, told a press conference in Beijing.
"The country's spending on education has topped the list of fiscal expenditures."
China first pledged to increase its education spending to four percent of GDP in 1993 but has so far failed to achieve the target.
"The increase in education spending since 2006, when spending was only 2 percent of GDP, is a welcome development. It should enable the government to achieve its target of spending 4 percent of GDP on education one year earlier," Richard Herd, author of the recent Organization for Economic Co-operation and Development (OECD) Economic Survey on China, told China Daily on Sunday.
"Nearly all OECD governments spend more than this on education. So the new priority for the government should be to achieve universal, free 12-year education by the end of the next five-year plan," he said.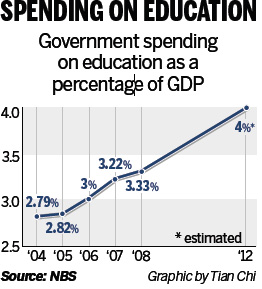 Education has been one of the issues receiving the most criticism from the public, especially education imbalances, the academic workload of students, academic corruption as well as a growing education bureaucracy.
Premier Wen Jiabao on Saturday called for changes in the education bureaucracy, a problem that plagues China's development of education.
"I hope that the administrative rankings of colleges will be removed," Wen said during an online chat with Internet users on gov.cn and xinhuanet.com.
Wen said another way to boost educational development is to have schools run by educationalists.
He defined "educationalists" as those who love to teach and know how to teach, and those who have been teachers for their entire lives.
"If the head of a school is changed every two or three years, that school will never become excellent," said Wen.
Wen said the country's outline for medium and long-term educational reform and development gives priority to reducing the student's academic workload so that they can develop in an all-around way.