Factors behind increase include women's ages, previous abortions
NANNING: The country appears to be suffering from rising infertility levels, with a number of regional surveys showing up to 10 percent of couples who have regular sex being unable to conceive within a year, reproduction experts have said.
No nationwide epidemiology surveys on infertility have been conducted yet, but experts have estimated that the infertility rate stood at 3 percent in the early 1980s.
Related readings:


 Male infertility rate on the rise in Shanghai


 Ovarian changes may link obesity and infertility


 Study sheds new light on link between obesity, infertility


 Woman has triplets against infertility odds
For women, childbirth after 35 years of age and previous abortions were often to blame for increasing infertility, said Zhou Canquan, director of the department of obstetrics and gynecology under the First Affiliated Hospital of Sun Yat-sen University.
Male infertility was on the rise as well, with sperm counts decreasing from 100 million per ml on average in the 1970s to 40 million per ml currently, Zhou said on Friday. He was speaking at the launch of China's first nationwide infertility survey, held by the Ministry of Health (MOH) and the Chinese Medical Association and sponsored by Switzerland-based pharmaceutical giant Merck Serono.
"Individuals and the government should pay attention to the issue, as it affects families and threatens the future generation," Zhou said.
In China alone, more than 10 million Chinese couples need assisted reproductive technology (ART) procedures. More couples are also receiving other fertility treatment like hormonal therapy and a number of surgical procedures that are considered less intrusive and expensive than ART, experts said.
The World Health Organization (WHO) expects infertility and sterility to be the third most serious diseases worldwide in the 21st century, after cancer and cardiovascular diseases.
Factors such as heavy workloads, stress, environmental pollution and unhealthy lifestyles are also known to be related to a rising infertility level.
With rising awareness of the issue, an increasing number of relatively well-off Chinese who cannot have a child are turning to all kinds of infertility therapies, particularly technically demanding and expensive ARTs, said Professor He Fangfang with Peking Union Medical College Hospital.
"However, it is not a cure-all," she said.
"An average of 40 percent of sufferers got a baby after ART procedures and the chance gets slimmer as patients age," she said, adding that the risk of abortions increases for pregnant women older than 35.
Studies show more than 80 percent of women who practice unprotected, regular sex can conceive naturally within a year and those between 23 and 27 years stand the highest chance of conceiving.
At Zhou's department, which is authorized by health authorities to operate in vitro fertilization, patients' ages average 34.
In 2009, more than 2,400 of such operations were practiced and the number has been rising, Zhou said.
"Notably, despite an average cost of 100,000 yuan for ARTs, demand still cannot be met," he said.
"Many are on the waiting list."
Currently China has at least 200 such centers recognized by the Ministry of Health to perform ART procedures, official statistics showed. There were five of the centers in 2001.
Due to limited resources and long waiting lists, a number of infertile couples also turn to underground fertility clinics that are not registered with health administrations.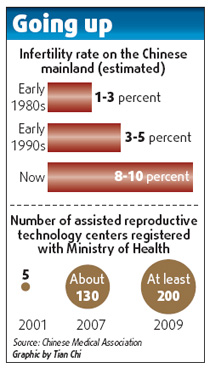 "Driven by profit, many of these illegal clinics, usually privately owned, administer expensive ART procedures which are actually not necessary for patients," He said.
"The success rate at these clinics is also low, with patients facing potentially adverse, if not serious, medical situations."
Illegal practices like surrogacy are also rampant with the presence of unqualified clinics, Zhou said.
"The government should implement close supervision and heavy penalties to curb these and ensure the safety and rights of patients," he said.
"Limited resources should be optimized to benefit more patients," he said.
Currently, most resources are located in the country's rich eastern cities, the MOH said. Poorer people have little access to ART, which is not covered by medical insurance.
"Information such as the exact number, condition, distribution and personal background of infertile couples nationwide are important for optimizing the resources," he said.