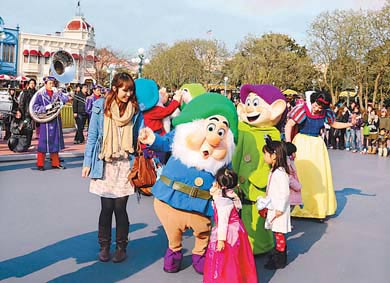 Chinese tourists are seen at the Tokyo Disneyland on Feb 19. Ji Chunpeng 
The Chinese Lunar New Year is not only a gala for domestic retail sales, but a feast for overseas retailers, too.
Some 1,200 Chinese tourists celebrated the lunar New Year in New York between Feb 14 and 20, spending an estimated $6 million in the United States, said Zheng Wenqing, a public relations manager for New York Tourism Board's China office.
Japanese retailers also reaped gains from Chinese tourists during the week. A local home appliance retailer, Bic Camera, reported that its store in Akihabara, Tokyo, saw its sales increase by 20 to 30 percent thanks to Chinese tourists, Japan-based Chinese language newspaper Jnocnews reported.
The newspaper quoted a salesman as saying that a Chinese tourist pointed to and bought cameras and lenses worth more than 70,000 yuan ($10,500) at one time. Another Chinese tourist bought 20 rice cookers at one shot.
In Berlin, half of eight counters selling luxury watches in KaDeWe department store on Feb 15 were receiving Chinese tourists, Xiao Yun, a tourist who just came back from Europe told Beijing Youth Daily.
He also saw the counters of top cosmetic brands crowded by Chinese tourists at the Munich airport, and one of them bought five bottles of a toning lotion priced at 2,000 yuan each.
Chinese consumers have become the No 1 spender in more and more countries, studies and experts said.
The latest report by Global Refund, a company specializing in tax-free shopping for tourists, said Chinese tourists outspent the Russians in France last year. Chinese tourists spent 155 million euros ($220.2 million) in 2009, followed by the Russians who spent 112 million euros and the Japanese who spent 99 million euros, the report said.
The Galleries Lafayette in Paris reported that a typical Chinese tourist spent 1,000 euro in two hours last year, topping tourists from other countries.
Some 87 percent of the Chinese's average total bill was on fashion items, including shoes and handbags, and 93 percent of their shopping was done in and around the French capital.
Purchases made by the Chinese represented 15 percent of total spending by tourists in France in 2009 and their total bill rose 47 percent from 2008, it said.
Chinese tourists are also among the top five spenders in countries like Singapore and South Korea, reports said.
Insiders said the shopping craze is mainly due to two reasons - a booming economy in China, and a price gap caused by a high tax levied on luxury goods.
"People have more spare money to spend now. I traveled to France a decade ago, and I didn't buy any luxury goods simply because I couldn't afford them," said Cui Xiaoping, in his 50s, who traveled around Europe, including France, with his wife in January.
But during the January trip, he bought so many things, including designer handbags and clothes, that he needed to buy an extra suitcase to carry them home.
"Chinese people these days are more informed about the luxury brands. For me, I buy luxury brands because they offer quality. Buying them in Europe is a lot cheaper than in China due to the competitive exchange rate between euros and renminbi, plus there is no import tax," he said.
In addition, Chinese tourists are impulsive shoppers, said Li Meng, deputy general manager of the outbound department with the China International Travel Service head office.
"Chinese tourists are different from the Japanese tourists, who would make shopping lists beforehand. Many Chinese tourists bought everything they thought is cheaper than at home," he said.
Cui Jia contributed to the story
(China Daily 02/25/2010 page3)