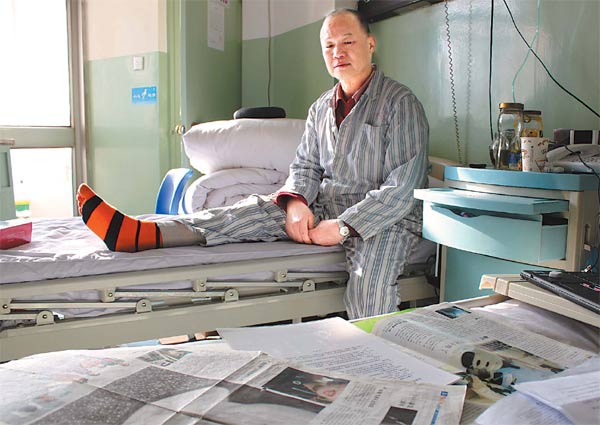 Fang Bo, 58, who survived SARS seven years ago but is now crippled by the hormone treatment that saved his life, looks across from his bed in a Beijing hospital to cuttings of newspaper articles from 2003 that hail him as a symbol of hope against the deadly virus. [Photo/Peng Yining] 
SARS survivors are struggling to cope with the horrific side effects of the hormone treatment that saved their lives, reports Peng Yining

In the war on SARS seven years ago, Fang Bo was hailed a national hero. After winning his own battle against the deadly virus at a Beijing hospital, he was lauded by the media as a symbol of hope, and inundated with letters and flowers from the public.
Seven years on, the 58-year-old is all but a forgotten survivor, crippled by the very treatment that saved his life.
His hips are now lined with 30-cm scars from operations to replace his thigh bones after he developed osteonecrosis, a wasting condition and a side effect of the hormone therapy he received in 2003. The disorder also affects his shoulders and knees.
"All the bones in my body are becoming like plaster, fragile and breakable," said Fang, a retired Beijing cook, who can still walk but lives in constant agony. "This condition doesn't kill you quickly, it tortures you for the rest of your life."
More than 5,000 people were infected during the outbreak of SARS - Severe Acute Respiratory Syndrome - on the Chinese mainland, where the final death toll hit 349, according to a WHO report on Aug 15, 2003.
Fang, whose wife and sister-in-law died from the virus, spent 40 days receiving treatment in hospital. When he was discharged, he donated blood antiserum to help scientists create a cure and offered his body to medical science after his death.
"I am healthy again," he told Face to Face, a China Central Television talk show, days after leaving hospital. "I want to help people to fight against SARS like I was helped. I believe my life in the future will still be beautiful."
Just six months later, he was diagnosed with osteonecrosis. He had operations on his femurs in 2005 and 2006, and last year, surgeons removed pieces of bone as big as fingernails from his right shoulder.
"Every media organization reported that people would help me and wouldn't forget me, but where are they when I lay alone after surgery?" he cried as he leafed through newspaper cuttings carrying headlines about his amazing recovery and the doctors who helped save him.
Fang is one of about 300 SARS survivors in Beijing struggling with side effects after treatment in 2003, with small numbers also in other cities, according to Chen Weiheng, a doctor at the capital's Wangjing Hospital.
He explained more than half of all China's SARS victims were treated with hormone therapy in Beijing. Many have since developed osteonecrosis, idiopathic pulmonary fibrosis - a scarring of lung tissue - and depression.
"The after-effects can't be cured, so they have to face a lifetime of treatment."
Fang Bo is facing his latest fight alone. Other than his wife, seven other members of his family were struck down in 2003. He has spent most of his retired life in the wards of Wangjing Hospital and, even after major surgery, receives few visitors. "My family is not able to take care of me. My relatives can hardly take care of themselves," he said.
His only companions are his "sick friends", the patients who occupy the beds next to his.
"What if we were all disabled? Who will take care of us?" said patient Li Chaodong, 51, whose wife, Bao Baoqin, also suffers post-SARS side effects. "Nobody told me anything about the side effects to the hormone treatment but I don't blame anyone. The treatment saved my life. Now I must continue to survive after SARS."
Last year, Fang fell down in his 11th-floor apartment in Beijing and was unable to get back up, his arms and legs too weak to support his frame. At that moment, he contemplated ending his life - but even that, he found, was a futile desire. "I wanted to jump out the window but how could I? I couldn't even get up. I thought SARS was a nightmare but I was wrong. The real pain came after SARS."
The central government launched a major study into the lives of SARS survivors in 2004, releasing a list of 300 people seriously affected by the side effects of the hormone therapy two years later.