Currency records biggest gain of 0.1% in Shanghai since Feb '09
The yuan strengthened the most against the greenback yesterday on speculation that the government may allow more flexibility in the currency exchange rate, even as analysts cautioned on risks from increased "hot money" flows.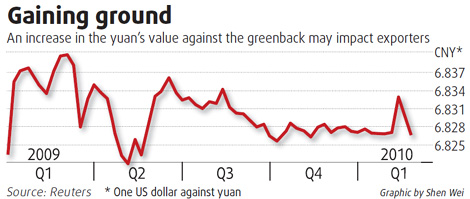 The yuan gained 0.1 percent to 6.8264 per dollar in Shanghai, the biggest gain since February 2009, according to the China Foreign Exchange Trade System. That's the third fluctuation of 0.05 percent or more in four trading days. Local financial markets were closed last week for the Lunar New Year holiday.
"It is an obvious signal that the People's Bank of China (PBOC) may allow the yuan to appreciate in the first half of this year," said Zhou Mingjian, an analyst with Pacific Securities.
China's foreign exchange reserves rose to nearly $2.4 trillion by the end of last year. At the same time, speculative capital also flowed into the country through various channels.
The "hot money" flows are expected to further surge this year on the back of the strong economic recovery and expectations of yuan appreciation, said a recent from the Chinese Academy of Sciences. Twelve-month non-deliverable yuan forwards were little changed at about 6.6565 yesterday, indicating that the yuan would rise 2.6 percent in a year.
Related readings:


 China's current account balance falls 35% in 2009


 Caution urged on dollar assets


 Can China reduce foreign reserve risks?
Yi Gang, head of State Administration of Foreign Exchange and vice governor of the PBOC, said the government's attempt to control asset bubbles and maintain healthy economic development this year faces threats from increased foreign exchange inflows.
He said the near-zero interest rates of central banks in Western economies, such as the US, have stoked cross-border speculative flows.
Analysts, however, feel that an increase in the yuan's value would impact on domestic enterprises, especially exporters.
"Exporters will see this as a precursor to more steps," Zhou said. The yuan's value has remained largely unchanged at about 6.83 per dollar since July 2008, following a 21 percent appreciation over three years.
Zhou added that a one-time substantial increase of 3 to 5 percent, however, would be much better than small incremental rises for several times, as the latter encourages consistent expectation of yuan appreciation.
Agencies contributed to the story