BEIJING: Railway and highway stations and airports across China have seen increasing passenger flow since Thursday as millions of Chinese are returning to work or study when the week-long Spring Festival holiday draws to an end, transport authorities said Friday.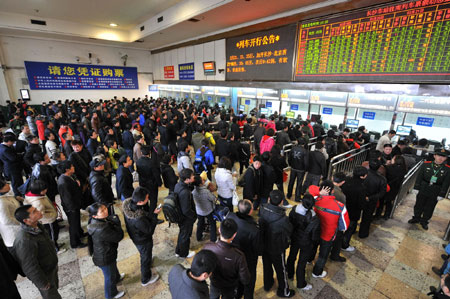 Passengers queue up to buy tickets at the railway station in Changsha, capital of Hunan Province, Feb. 19, 2010. [Xinhua] 
The four railway stations in Beijing, one of the popular destinations for job hunters, received 150,000 passengers Thursday and the number is expected to sharply increase Friday, the last day of the seven-day Chinese Lunar New Year holiday, Beijing Railways Bureau said in a press release.
Related readings:


 Transport networks brace for travel peak


 China braces massive Spring Festival return travel


 Travel peak rebounds as passengers start to return


 Over 4,000 scalpers detained in festival travel
Most of the passengers are tourists, migrant workers and students whose travel time was less than ten hours.
Long-distance travelers are expected to arrive Friday, bringing pressure on downtown traffic, according to the bureau.
The authorities of Beijing Railway Station and Beijing West Railway Station arranged 18 pairs of additional trains to cope with the travel peak, it said.
Public transport authority of Beijing has mobilized more buses to ensure passengers can leave railway stations as quickly as possible.
The ticket hall of Shijiazhuang Railway Station in the capital of Hebei Province that neighbors Beijing was crammed by anxious passengers Friday, when more than 52,000 people are expected to travel by train.
Wang Aishu, waiting for getting onboard a train, was at ease holding a ticket he bought six days ago.
"I knew there will be a travel peak so I bought a ticket as soon as I arrived at the station on the eve of the Spring Festival," said Wang, who was heading for Dongguan City in Guangguang Province to work.
The station mobilized 60 officers to help passengers and maintain order.
Trains carried away 373,400 people from Hubei Province in central China Thursday, up 20.5 percent as against the same day last year. The volume is expected to rise Friday and Saturday, according to the Railways Bureau of Wuhan, the provincial capital.
The railway station of Hefei, capital of Anhui Province in east China, has sent off about 30,000 passengers every day since Thursday to the major destinations of Beijing, Guangzhou, capital of Guangdong Province, and some other big cities.
The station set up 50 ticket booths, including 20 additional ones, to meet the booming demand for departure.
The railway station of Nanning, capital of Guangxi Zhuang Autonomous Region in south China, will see 34,000 passengers leaving for other regions Friday, up 17 percent as against that of Thursday.
However, a passenger surnamed Huang failed to get a ticket to his workplace of Hangzhou in Zhejiang Province.
"Tickets are sold out, only those for training leaving after February 25 are available," said Huang, carrying heavy luggage.
The country's railways served about 5.44 million passengers nationwide on Thursday, an increase of 12.5 percent over the same day last year, according to the Ministry of Railways (MOR) Friday.
The ministry said the number of long-distance travelers increased markedly as more people decided to make an earlier return trip to avoid the traffic boom, and the volume is expected to peak on Friday and Saturday.
About 210 million passengers will travel during the 40-day rush period beginning January 30, a 9.5 percent rise compared with a year earlier, MOR had estimated.
During the holiday period, 1,972.5 pairs of passenger trains were put into use every day on average, an increase of 156 pairs compared with the same period last year.
The trains served with an average daily transport capacity of 5.57 million people, an increase of 430,000 people compared with the same period last year, according to the ministry.
In Shandong Province, volume of coach passengers also kept increasing in the past few days.
More than 90,000 people are expected to take coach Friday to leave Jinan, the provincial capital, said Zhu Mi, media officer with the city's long-distance coach station.
The station is able to handle a maximum volume of 100,000 passengers a day, he said.
"I left home at 6 am to catch the bus, but every coach has been fully loaded," said a migrant worker who planned to seek job in Guangzhou.
Shenzhen, a popular workplace for migrant workers in Guangdong, has seen an increasing number of air passengers over the past several days. More than 45,000 passengers arrived in the city on Thursday and 47,000 others are coming, the airport authority said.
The Lunar New Year fell on February 14 this year and is an important traditional festival of family reunions.