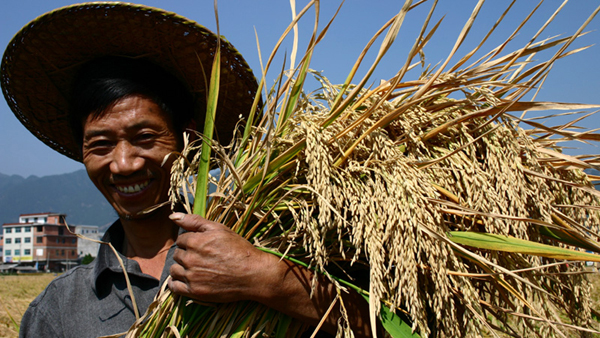 A farmer smiles after a good harvest of the high-yielding "super rice" in Tiantai, Zhejiang province.[Photo/China Daily] 
But given the controversy over the safety of GM food for a long time, such crops are not accepted in most countries, said Fang Lifeng, spokesman for Greenpeace China's GM program.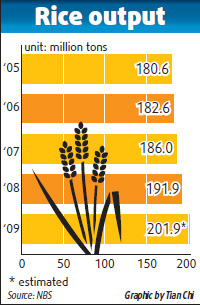 A 2007 survey by the organization found that 65 percent of the 2,000 polled in the country said they would not choose GM food for safety reasons.
Related readings:


 'GM' rice may join the menu


 Agricultural equities decline


 China vows to promote agriculture development in 2010


 Green light for plan to boost GM crops
"We firmly oppose the technology being put into mass production and commercialization in a rush," Fang said.
"To ensure food supply, we have other options with no potential health risks like biological agriculture," he noted.
GM corn sold by Monsanto, the US-based agriculture company, causes organ damage in rats, mostly in the liver and kidney, according to a paper by three French scientists published in the International Journal of Biological Sciences.
These substances have never before been an integral part of human or animal diet and therefore their health consequences for consumers, especially over the long term, are currently unknown, the paper said.
Monsanto, in response, denounced the study on its website, asserting that "these claims are based on faulty analytical methods and reasoning and do not call into question the safety findings for GM products".