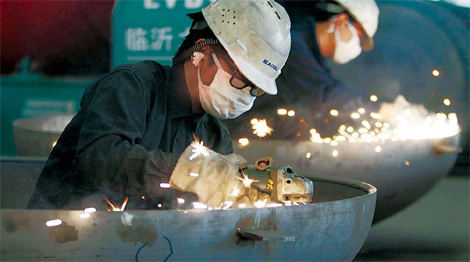 Workers in an iron and steel plant in Nanjing, Jiangsu province. The latest official procurement purchasing managers index indicates new orders and output components slipped while new export orders and import components picked up. [An Xin/China Daily]
Nation reports robust January PMI despite inflationary pressures
China's official procurement purchasing managers index (PMI) for January showed expansionary manufacturing momentum yesterday indicating a further pick up in economic growth even as a top central bank official warned of rising inflation.
The PMI index compiled by the National Bureau of Statistics and the China Federation of Logistics and Purchasing (CFLP) moderated to 55.8 in January from 56.6 in December. "The reading still remains well above the boom-bust line of 50, suggesting a continued expansion in the manufacturing sector in January", said Sun Mingchun, an economist with Nomura Securities.
A PMI reading of above 50 indicates growth relative to the previous month, while a reading below 50 indicates contraction. The current figures are the second highest since the country's economic activity began slowing in May 2008, and represent the 11th consecutive month of manufacturing growth.
New orders and output components slipped while new export orders and import components picked up. New orders and output were 59.9 and 60.5 from 61 and 61.4 in December. In contrast, new export orders rose to 53.2 from 52.6 in December, ending two consecutive months of drops.
Soaring inventories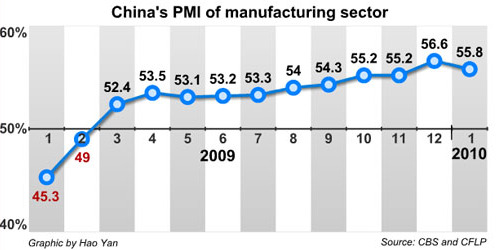 The most heartening feature of the indicator is the jump in raw material inventories to 52.2 in January from 51.4 in December. That marks the highest reading since the official PMI became available in January 2005, indicating that firms are restocking raw materials, possibly due to stronger orders and higher inflation expectations on raw material prices, analysts said.
"This is an early indicator that the economy may be overheating, while rising raw material prices and restocking activities may reinforce each other," said Sun in a research note. "Recent credit tightening moves should help reduce speculative inventory accumulation, and prevent the economy from becoming too overheated."
Related readings:


 China shares close lower on new PMI data - Mon


 China's PMI of manufacturing sector down in Jan


 Modest decline in December PMI


 China PMI hits new high, raising inflation concerns
China's economy survived the global economic slow down, registering an impressive 8.7 percent year-on-year growth last year. Its growth reached 10.7 percent in the fourth quarter of 2009, and is set to exceed 11 percent in the first quarter of this year, indicating strong momentum that some fear could lead to overheating and other problems like high inflation.
The country's consumer price index (CPI), a major gauge of inflation, rose to 1.9 percent in December from 0.6 percent in November, fueling concerns that inflation could further pick up and cause serious problems if not properly dealt with.
Zhu Min, deputy governor of the central bank, said at the World Economic Forum in Davos last week that tackling inflation would be the main priority for the government this year.
Rising inflation and asset bubbles are the biggest worries for the nation's sustained and strong economic growth, Fan Gang, economist and member of the monetary policy committee of the central bank, said yesterday.
He said the financial market had picked up the correct signals from the recent monetary moves. The benchmark Shanghai Composite Index shed 47.9 points, or 1.6 percent, yesterday as fears continued to spread that the government would tighten policies to rein in credit and nip inflation in the bud.
Deemed a source of potential high inflation, China's liquidity has increased dramatically since last year, when the government pumped money into the financial system to stimulate the economy. New lending soared to 9.6 trillion yuan in 2009 almost double that of 2008.
Economists feel that China's economy could slow down from its high growth pace of last year in the wake of policy tightening measures. Most of them are of the view that there would be interest rate hikes in the second quarter of this year.
Shanghai-based Guotai and Jun'an Securities expect the rate hikes to kick in this month after the economic indicators for January are released.
Zhang Liqun, an analyst with the China Federation of Logistics & Purchasing (CFLP), said there are still risks in the economy. "China's economy is still in the crucial stages of stabilization," he said.