Expert: Web content supervision needed to maintain social security
China on Friday firmly dismissed accusations by the United States that Beijing restricts Internet freedom and warned such claims were damaging to relations between the two nations.
"The US has criticized China's policies to administer the Internet and insinuated China restricts Internet freedom," said Ma Zhaoxu, spokesman for the Foreign Ministry. "China's Internet is open and managed in accordance with law."
Related readings:


 Google incident and US Internet strategy


 Google case 'not linked to Sino-US ties'


 Let's google for truth behind search engine's pullout


 Google, a private company under political pressure
His remarks followed a speech on Thursday by US Secretary of State Hillary Clinton in which she spoke out against Internet censorship and urged China to investigate a wave of cyber attacks against Google.
Search engine giant Google last week threatened to end its operations in China, citing disagreements with Chinese government policies and cyber attacks it claims originated in China.
The Internet and other technologies are critical to US foreign policy, and those who engage in cyber attacks should face international condemnation, Clinton said.
Beijing has played down the row with Washington over the Google issue, and leaders insisted it is simply a legal matter and should not be linked to China-US relations.
However, Ma on Friday urged the US to stop using the so-called freedom of the Internet to make groundless accusations against China, which he said is also threatened by cyber attacks.
China is one of the countries most active in developing the Internet, while Chinese citizens' freedom of speech is protected by the Constitution, said the spokesman.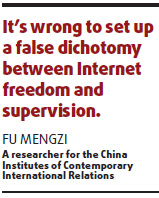 According to official statistics, China has 384 million netizens, including about 180 million bloggers.
Both China and the US should "enhance dialogue and communication to handle rifts and sensitive issues appropriately, protecting the healthy and stable development of relations", Ma said.
His comments suggest China does not want the dispute to overwhelm cooperation with the Obama administration, which has sought Beijing's backing on economic policy and diplomatic standoffs, Reuters reported.
Chris Adams, minister counselor for trade affairs at the US embassy in Beijing, told reporters on Friday that the Google issue is an individual case, although it is of great concern to the US.
Google has made the decision based on the business environment in China and the rest of the US community has to decide how to go forward in China given the conditions, including cyber security issues, Adams said.
Fu Mengzi, a researcher for the China Institutes of Contemporary International Relations, said sovereign nations must supervise Internet content to maintain social security.
"Every country has rights to protect its national security and the US is no exception," he said, adding that Chinese netizens have sufficient access to the information they need in line with laws.
What China did is to safeguard the security of information flow on the Internet, he said.
"It's wrong to set up a false dichotomy between Internet freedom and supervision," he said.
Fu also pointed out that Google has broken Chinese laws by providing links to pornographic sites and infringing intellectual property rights.
However, Sun Zhe, a professor on international studies at Tsinghua University in Beijing, advised China to speed up the process of unveiling fresh policy on Internet freedom.
China "needs a stable legal framework to set the standard for domestic enterprises and international companies", he said.
Google must understand and respect China's Internet supervision policy, even if it does not agree with it, he said.
"If Google is convinced the hackers who launched these cyber attacks against them came from here, it should provide any clues it has to the government. China will be glad to help find the attackers," he said.