Spain will propose that the European Union (EU) consider lifting an arms embargo on China and grant full market economy status to the country, Madrid's top envoy to Beijing has said.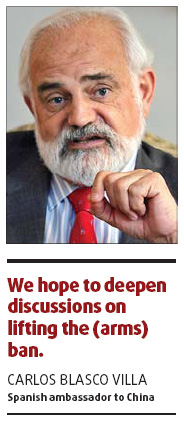 Elaborating on Spain's tasks during the six months it holds the EU rotating presidency, Carlos Blasco Villa told China Daily that Madrid will also promote the signing of a comprehensive cooperative partnership between China and the EU.
"Relations between the EU and China are good, but they can be raised to a higher level," Blasco said.
The ambassador wants to elevate ties to a comprehensive partnership, a relationship China has established with at least a score of countries, including Australia and New Zealand.
"The establishment of such a partnership will show that ties go beyond trade," he said.
Spain, which holds the rotating presidency from Jan 1 to June 30, will ask the EU to consider lifting the ban on arms exports to China, he said.
"We hope to deepen discussions on lifting the ban," he said.
Imposed two decades ago, the ban is cited by a number of analysts as an obstacle to China-EU ties.
Madrid is also keen to put on the EU's agenda the granting of full market economy status to the world's largest exporter, Blasco said.
As a compromise to join the World Trade Organization (WTO) in 2001, China allows WTO members not to recognize it as a full market economy until 2016.
But the lack of such a status has made China the victim of a growing number of dumping charges.
From January to November last year, other economies launched 212 trade cases against China, affecting $12 billion worth of Chinese exports, the Ministry of Commerce said. Both numbers were double from a year earlier.
"To pull the world out of the financial crisis, trade protectionism must be rejected," Blasco said.
More than 80 countries and regions, including Australia and New Zealand have granted the status to China.
Related readings:


 China-EU relations generally good despite differences


 Spain wants EU position on scanners


 Trade protectionism charges against China growing


 Focus on 'ties with key EU members'


 Spain seeks new EU economy strategy
But China needs to further open up its service sector and make the yuan fully convertible to convince all EU members, Blasco said, adding that he understood the country's gradual and steady approach in opening up.
The market economy status - a focal point of disputes on currency and trade - has long been an irritant in Sino-EU relations.
Six months may not be enough to solve these problems, Blasco said, but he hoped negotiations during the period can pave the way for "substantial progress" at the year-end Sino-EU Summit.
"We do wish the time is ripe for the EU and China to discuss these at the next summit," he said.
The annual summit was last held in Nanjing, Jiangsu province, on Nov 30. The next edition, or the 13th, will be in Brussels.
What worries the ambassador the most in regard to China-EU ties is the trade imbalance.
Citing European figures, Blasco said China's exports in 2008 were 248 billion euros ($357 billion) but imports were only 78 billion euros.
"We are well aware that we cannot compete with China on labor-intensive industries," he said.
One way to improve the balance is to let China import more hi-tech products, for which the Europeans are famed, he said.
Sino-Spanish ties
The ambassador predicted that bilateral trade could return to 2008 levels this year. The financial crisis saw trade plunge by about 20 percent last year. China is now Spain's largest trade partner outside Europe.
Spanish companies are investing big in China, with banking behemoth BBVA and telecom giant Telefonica buying significant stakes in local companies.
Moreover, Chinese and Spanish enterprises can work more closely in third markets, Blasco said.
In Latin America, for instance, where Spain has a strong business presence, China is increasing investment, he said, naming the telecom, power and banking sectors as possible fields for cooperation.
"We don't see competition between Spain and China there. Instead, building alliances between Spanish and Chinese companies will be good for both to fight the financial crisis," he said.