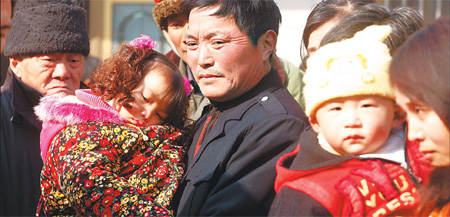 Wang Wanshan, 55, of Hekou, holds his granddaughter Wang Chengcheng, 4. She has an excessive blood-lead level - 279 mcg/l - but is yet to be treated. [Yang Shizhong/China Daily]

It is becoming a familiar tale in China: a local government approves a factory, nearby residents fail in their objections, then residents start to fall seriously ill years, if not months later.
The recent reports of lead poisoning among at least 55 children and 47 adults living beside a battery factory in Hekou village, Jiangsu province, follow the usual pattern.
But the case has highlighted more than just poor environmental planning; it has also exposed serious flaws in a supervision system that allowed a polluting factory close to a residential area of more than 100 families to operate at 160 percent above its legal production capacity.
Test results shown to China Daily last Friday showed at least eight children had more than 200 micrograms of lead per liter of blood, double the normal levels, while some adults registered about 600 mcg/l.
About 70 villagers a day are being given blood tests by disease prevention and control staff officials from Yancheng, the prefecture-level city that administers Hekou.
The official number of poisoning cases was still to be released last night but villagers said at least 100 children had been affected.
Related readings:

 51 children suffer lead poisoning


 More children to be checked for lead poisoning


 Battery plant closed after lead poisoning found


 Govt help for lead poison victims


 44 children in Guangdong show abnormal blood lead
It is the sixth lead poisoning scandal to be exposed in China in six months, with similar reports involving a total of about 3,300 youngsters in Shaanxi, Hunan, Yunnan, Fujian and Henan. Each time the blame has been laid at the door of a nearby lead smelter of battery factory.
In Hekou, the fingers of residents and government officials are pointed at Dafeng Shengxiang Power Supply Co Ltd, a lead-acid battery manufacturer that lies 50 m from the village.
The plant began operation in 2007 and has been subject to constant complaints, mostly about the pungent smell it discharged into the air at 10 pm every night.
Villagers said they reported the problem but were told by local officials "nothing is wrong with the factory emissions". Yet following investigations into the scandal, local authorities said the factory had expanded production without permission from its approved 500,000 batteries to 1.3 million. It is unclear how long the factory had been doing this, but it was the unauthorized increase that caused the lead poisoning, said officials.
So how was Dafeng Shengxiang Power Supply able to continue overproducing despite regular visits from the environment bureau?
"The company was informed in advance of any visit," plant worker Guo Linyu, 29, told China Daily. "Each time an environment department official was about to check the factory, our boss would tell us to stop working and start cleaning the workshops.
"We always had enough time to prepare. Environment officials investigating residents' complaints never found anything wrong at the plant."
Guo's manager, Wang Changhong, admitted he knew when the factory would be checked, but refused to say where he got the information.
A Dafeng environmental protection bureau was unavailable to comment when contacted by China Daily yesterday.
However, Xia Xueluan, a sociology professor at Peking University, said local governments who put economic growth ahead of the environment are often reluctant to properly check polluting factories.
"The enforcement of environmental laws should be tightened and procedures for environmental checks must be improved to be more cautious. Officials should not be warning factories ahead of planned inspections," he said.
Authorities should work more on prevention, not simply look to act quickly once a disaster occurs, said Xia.
Local officials in nearby Dafeng said the battery plant's owner, Cheng Qihua, is being questioned. The factory has also been closed and ordered to relocate by March 31.
Guo, who also lives close to the plant, provided an early warning of the coming scandal last August when she was discovered to have a blood-lead level of 590 mcg/l.
"I felt a great pain, like a stone in my stomach. I had no idea I was suffering lead poisoning. At first, I thought it was menstrual pain but two days later I couldn't bear the pain and went to a doctor with my husband," said Guo, who earned 2,400 yuan ($350) a month polishing lead ingots up to 11 hours a day.
Her health improved after taking medication offered by the factory and was soon back in the workshop.