BRUSSELS: Rebiya Kadeer, president of the so-called World Uygur Congress, pitched her separatist tales in the European Parliament on Tuesday, but they appeared to be unpopular among European Union lawmakers.
Dressed in traditional Uygur clothing, Kadeer attended a session of the European Parliament's human rights committee and accused the Chinese government of mishandling the bloody July 5 riot in Urumqi, capital of China's Xinjiang Uygur autonomous region.
Speaking through an interpreter in the Uygur language, Kadeer claimed the Uygurs had established their own independent state before Xinjiang was liberated in 1949, referring to the autonomous region of China as "East Turkestan" throughout her speech.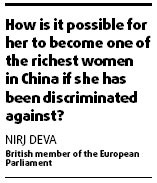 But her accusations and separatist claims failed to convince some EU lawmakers.
Nirj Deva, a British member of the European Parliament, said he was confused as Kadeer's personal experience ran counter to her accusations.
"How is it possible for her to become one of the richest women in China if she has been discriminated against? If her human rights were trampled, is it possible for her to become a member of the Chinese National Committee of the Political Consultative Conference, which is one of the highest bodies of China's national assembly?" he asked.
Before going into exile and engaging in separatist activities abroad, Kadeer created a business empire and became a millionaire in Xinjiang. She was even listed as the eighth richest person on the Chinese mainland by Forbes in 1995. As a business mogul, she was elected to the National Committee of the Chinese People's Political Consultative Conference in the 1990s.
Deva also said he could not agree with Kadeer's accusation that the Chinese government had deprived Uygurs of the right to learn their own language since 1949.
"If the Uygur language is banned, how could Kadeer speak it so fluently today?" he said.
Kadeer was born in 1951.
Full Coverage:


 Riots in Urumqi
Related readings:


 Uygur social activist: Kadeer is an inciter


 Kadeer's speech in Australia criticized


 Kadeer's US sponsor has ulterior motives


 A dull show by Rebiya Kadeer in film festival


 Family charge Kadeer with organizing riots
Deva said the inability to differentiate between fundamental human rights and separatist-related violence was a cause for concern.
Charles Tannock, another British member of the European Parliament and a long-time critic of China's human rights record, said Kadeer's words were unfounded.
Instead of being discriminated against, minority groups in China, including the Uygurs, were in fact enjoying preferential treatment, Tannock observed.
While the Han majority can only have one child under the family-planning policy, Uygurs are allowed to have a larger family, the lawmaker explained.
Kadeer herself has 11 children.
"Defending the rights of minorities does not, in my view, mean supporting violence incited by secessionists against legitimate Chinese authority in the province and against Han Chinese people," Tannock said.
He added that the EU is committed to the one-China policy, the common position of all 27 EU member states, and that the European Parliament should not support secessionist forces within China which are backed by religious extremist groups.
In response to Tannock's comment, Heidi Hautala, a Finnish lawmaker and chair of the Human Rights Committee, stressed that she personally did not support separatists in China.
"For my own part, the fact that Kadeer is being invited here as a representative of the World Uygur Congress does not mean that I am a supporter of Uygur secessionism," she concluded.
Xinhua