Wu Wenchang calls himself "a letter writer" - except his addressees are departed souls.
But nowadays, this tombstone engraver finds it "very hard and painful" to continue with a trade he has been practicing for 20 years.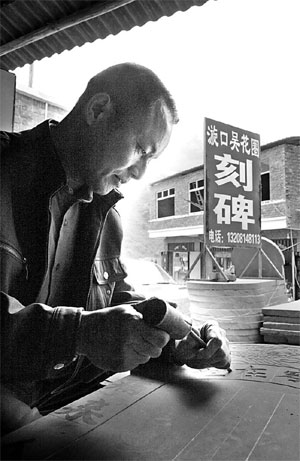 "Ruthless quake takes mother away, endless love keeps her soul stay" is one of the popular couplets Wu Wenchang uses for his customers. [Photo:Yi Ling/China Daily]
Wu says his handcrafted tombstones used to be tributes to lives well-lived. "These days, almost all are for people who died in a sudden calamity - last year's May 12 earthquake," he says, from his shop in Xuankou, a town located in the quake epicenter of Wenchuan county.
Now 46, Wu has lost count of the "stone letters" he has chiseled. He has also come to regard death rather stoically. "So many people died in a minute," he explains.
The killer quake that hit southwestern China's Sichuan province claimed nearly 70,000 lives. More than 12,000 were from Yingxiu, a town with a population of 18,000.
Wu's home in Xuankou is less than 20 km from Yingxiu. The quake claimed everything he had, including his shop. Luckily, his family of three survived.
With 16,000 yuan ($2,336) in support from the local government, and 20,000 yuan in bank loans, Wu rebuilt his shop in January. His new shop, a 40-sq-m room, stands on a slope by the road linking the provincial capital Chengdu, to Wenchuan. A black signboard in white characters that reads "Wu's Tombstone Carving Shop" sits on a pile of stones outside.
Inside, semi-finished black tombstones lean against a wall, some carrying a golden image of a dragon for males, and phoenixes for females.
Full coverage:


 Sichuan, One Year On...
Related readings:


 Survivors still have a mountain to climb


 Hu attends ceremony marking quake anniversary in Sichuan

 Life resumes normal after last May's earthquake


 Jackie Chan Sings with Young Quake Survivors


 Quake survivors mourn as anniversary nears
Over the past year, he says, almost all the tombstones ordered have been for quake victims of Yingxiu. "The youngest victim was a little girl of three, and the oldest, a woman over 90."
Of all the tombstones Wu has made, none has been more painful than that for his close friend Li Quansheng, 40, a local pharmacy worker.
"Every time I held the chisel, his smiling face appeared before me," Wu says.
It was in March that Li's family approached Wu for a tombstone. They wanted it before the Tomb-sweeping Festival on April 4 - the day the Chinese offer prayers to their ancestors and loved ones who are no more.
But Wu could not finish the piece on time. It took him two weeks to finish something that usually took two or three days.