All Liao Bo wants for his landmark 18th birthday today is a normal school life, just like the one he had "before everything happened".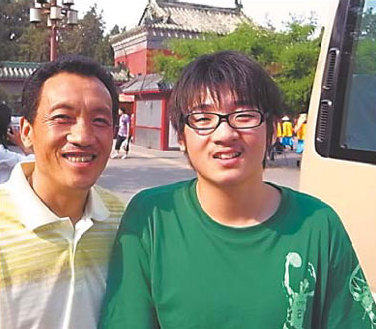 Liao Bo and his father pose while visiting a scenic spot in Beijing last Friday before heading back home to Beichuan county, Sichuan province. [Photo:Cui Xiaohuo/China Daily]
The high school student was one of the children trapped in the collapsed Beichuan Middle School in the May 12 earthquake in Sichuan province last year, and medics had to amputate his left leg below the knee.
Ever since, he has been plagued with bad dreams. But as he comes of age, the survivor has only one wish: To return to school.
"Even if I had to spend my entire birthday in a corner of the old school's men's room, it would make me feel better," he said. "I just want to return to the same peaceful life like before, and don't want any more tragedies to happen to my family."
Full coverage:


 Sichuan, One Year On...
Related readings:


 China marks 1st anniversary of Wenchuan earthquake


 The first Wenchuan Earthquake memorial park opened!


 Life resumes normal after last May's earthquake


 Beichuan's ruins left by Wenchuan Earthquake


 Rescue drill held to mark first anniversary of the quake
His days recently have been filled by flights and invitations, but his got his homecoming wish last Sunday and was making his way to his home in Beichuan county, after a four-day visit to Beijing to collect donations for the relief fund and take part in a book signing, as well as other events related to the first anniversary of the devastating disaster.
Liao became a household name after Xinhua News Agency released a photograph of him trapped beneath the rubble of his old school. Only his dusty face was visible, appearing as if he was looking up at the sky.
The image became synonymous with the struggle faced by those stranded students and was circulated around the world.
Liao was rescued and later transferred to Chongqing and then to Beijing for surgery. But the special care has done little to heal his homesickness.
Speaking at a park in the east of the capital on Friday after autographing dozens of copies of a newly published book written by survivors from Beichuan Middle School, he said: "I felt pushed to all kinds of stages in the past year, but I often felt I had done nothing meaningful.
"I would rather there was no photo so that people wouldn't have to remind me of a noisy life and the earthquake."
And Liao could not even be swayed from returning home by offers from several top schools in Beijing.
"I want to return to Beichuan, to be with my friends and classmates. I belong there," he said. "I want to live the way I like. It's important for me."