Just one year after the Sichuan earthquake devastated the infrastructure of some areas in Chengdu, the province's capital, the city's planning authority is seeing the first fruits of its massive reconstruction program.
According to Fu Yi, director of Chengdu's Development and Reform Commission, some 21.8 billion yuan has already been invested in an unprecedented program of reconstruction. This accounts for just over 30 percent of the total 2008-09 budget for the project.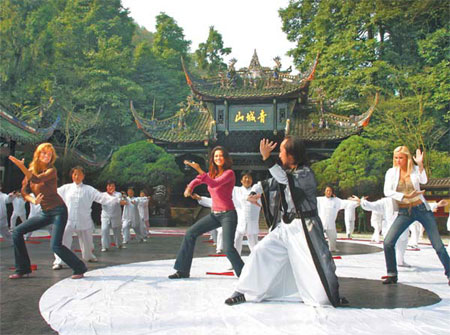 Undeterred by the tremor, foreign travelers learn Kung Fu skills at a Taoist temple in the Qingcheng Mountain area. [China Daily]
This has seen more than 300 projects completed ahead of schedule, resulting in 130,000 people moving to their new permanent residences. Although 1,000 km of highways were destroyed by the earthquake, this same project has resulted in a third of them returning to operation already, with work continuing on the remainder.
Full coverage:


 Sichuan, One Year On...
Related readings:


 Mourn for the dead in Beichuan on quake anniversary


 Hu attends ceremony marking quake anniversary in Sichuan


 Life resumes normal after last May's earthquake


 Revisit Sichuan on quake anniversary


 Rescue drill held to mark first anniversary of the quake
As one of the most celebrated tourism destinations in China, Chengdu, despite the earthquake, saw 13.77 million tourists returning in the first quarter of this year. Tourism revenues rose 10.4 percent over the same period of last year to reach 10.8 billion yuan.
A year ago the earthquake caused a huge damage to facilities in Chengdu, with a direct economic loss estimated at 124.7 billion yuan. Dujiangyan, Pengzhou, Chongzhou and Dayi were among the areas hardest hit.
In light of the size of the challenge resulting from these enormous losses, in August 2008 local authorities invited nearly 200 design and planning institutes to draft the overall and detailed plans for the reconstruction.
The city's planning authority also promised to provide greater support for reconstruction in the rural areas, aiming to ensure a balance between developments there and similar initiatives in the urban areas.