As one of the leading visitor destinations in China, Chengdu is seeing a steady recovery of its tourism industry after the earthquake of May 2008.
According to the Tourism Bureau of Chengdu, during the first three months of this year, the city welcomed more than 13 million tourists from around the country.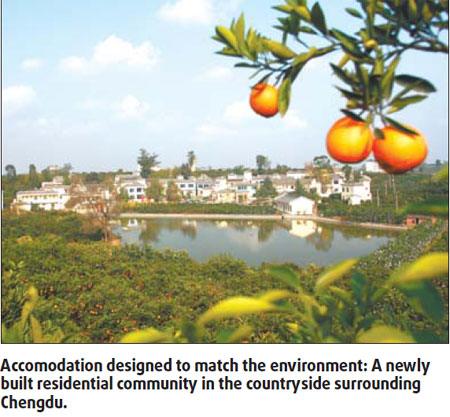 The city is expecting to receive around 50 million domestic tourists and 1 million overseas visitors across the course of the year - a return to the levels of 2007.
The May 12 Sichuan Earthquake dealt a heavy blow to the tourism industry in Chengdu, with direct economic losses estimated at around 30 billion yuan. To minimize the damaging effects of the earthquake on the industry, the city's authorities have made stringent efforts to rebuild destroyed facilities in some of its most popular destinations.
To date 46 tourism reconstruction projects are now underway or on the drawing board. The projects involve a total investment of 91.86 billion yuan.
Full coverage:


 Sichuan, One Year On...
Related readings:


 Mourn for the dead in Beichuan on quake anniversary


 Hu attends ceremony marking quake anniversary in Sichuan


 Life resumes normal after last May's earthquake


 Revisit Sichuan on quake anniversary


 Rescue drill held to mark first anniversary of the quake
Typical is the example of Dujiangyan, a city famous for its two world heritage sites - the Dujiangyan Dam, an ancient water control project built more than 2,000 years ago; and the Qingcheng Mountain, the birthplace of Taoism. Here emphasis was placed very much on the protection of its cultural heritage.
In September last year, the Dujiangyan Dam reopened to tourists. Surviving the devastating earthquake, this magical ancient project has been kept intact through timely intervention by the tourist authorities in the area.
Reopened in June, the Broad and Narrow Lanes (or Kuanzhai Xiangzi as the locals call it) was the first tourism spot in Chengdu to attract back tourists. With its huge number of ancient buildings, the Broad and Narrow Lanes has long been a showcase of the local cultures and customs in this ancient city.
In order to attract more tourists to Chengdu, the city's tourism bureau is now offering free tickets to visitors from the rest of the country and the world, as well as to local residents.
Free ticket holders can visit many of the attractions in the city at no cost, including the Dujiangyan Dam and the Giant Panda Breeding Center.
The tourism bureau is scheduled to distribute a total of 15 million free tickets to tourists from outside Sichuan and another 5 million to tourists within the province. The investment in providing these free tickets is estimated at 12 billion yuan for the whole year.