About one year after the disastrous Sichuan earthquake, a delegation from the China National School of Administration (CNSA) visited Germany with the aim of developing fruitful German-Chinese civil protection cooperation.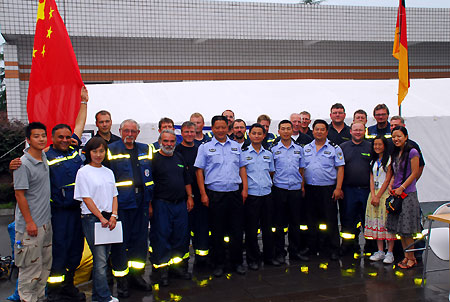 Wu Lei (L) and Zhang Xian (3rd L) pose for photos with the THW experts and the local police at Dujiangyan city, Sichuan province, as they voluntarily serve the two rescue groups as their translators after the May 12 earthquake last year. [chinadaily.com.cn]
In support of the Chinese government's plans to further improve its disaster management, two German governmental organizations, THW (Agency for Technical Relief) and GTZ (Society for Technical Cooperation), have offered to exchange expert knowledge with the CNSA.
In November a German delegation had already visited Beijing and Sichuan province during the course of the cooperation project. "The world gets smaller," said THW president Albrecht Broemme. "Catastrophes don't stop at national borders. So the knowledge about disaster relief mustn't be stopped at borders, either." In keeping with that theme and maintaining harmonious ties between the nations, a formal cooperation agreement was signed in March.
 Special coverage:


 Sichuan, One Year On...
Related readings:


Veteran shoots to fame for disasters relief


Quake relief (within a week of May 12, 2008)


China issues first white paper on disaster relief


Chinese banks lend 200b yuan for disaster relief
In May 2008 the THW, a disaster protection organization whose members are recruited mostly from volunteers, had its first-ever mission in China. By request of the Chinese government, a THW drinking water expert team set off to Dujiangyan to install water purification plants at temporary refugee camps in the region. More than 600,000 people live in the region, where about half of the buildings either collapsed or were uninhabitable after the earthquake.
The THW installed high-tech water purification plants for provisional settlements erected by the Chinese government in Beishan, Xingyi and Zhongxing. Each camp was designed to house over 2,500 displaced people until they could be placed in permanent homes – which may be a matter of years, considering the degree of devastation. A THW spokesman said he was impressed by the "gigantic relief effort of the Chinese government" in the face of such a catastrophe.
During relief efforts, THW volunteers relied on the help of two Chinese volunteers. Zhang Xian and Wu Lei, a couple who has lived in Germany for several years, assisted as interpreters. "I could help the THW team at their meetings with local authorities and enable them to communicate with camp inhabitants," Zhang Xian says. The 36-year-old woman, who owns a small export company, was in Germany when she heard of the earthquake. It took her over 24 hours to get in touch with her partner Wu Lei, who happened to be in the affected region at the time. "After I received his SMS that everything was okay with him, I was so relieved," Zhang says. "But I had the strong feeling that I have to go to Sichuan and offer my help where it is needed." She took the next flight to China she could get and immediately offered her help as a volunteer in Sichuan.