In a formal black suit, the quiet, tanned emcee had just taken part in an annual group wedding in Luoyang, the second largest city of central China's Henan province.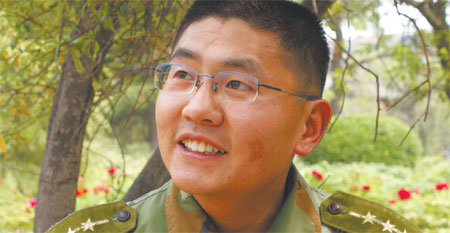 "Iron Army" political instructor Liu Huichao is looking forward to becoming a father. The 28-year-old lost a son due to his wife's miscarriage during the earthquake. His wife is pregnant again, and Liu is expecting a child around November. [Cai Ke/China Daily] 
Like any rookie, Zhang Xinluo - who has been on the job only since December - led the brides and grooms down the aisle as he congratulated each couple, grinning tensely.
A bullet-decorated necklace underneath his shirt serves as the sole reminder of a completely different past.
A mere year ago, Zhang, then an army shooter, led search for bodies of earthquake victims in Yingxiu. For months, his job was to dig out and bury the dead.
"I saw too many families fall apart. That's why I took this job - I want to help form more families," said Zhang, now 27.
He was among the first batch of soldiers who rushed into Yingxiu on the late afternoon of May 14 after trekking muddy, mountainous roads amidst aftershocks and landslides.
At a time when all modern communication systems between Wenchuan and the outside failed, the hopes of the entire country lay with them, the hundreds of soldiers from arguably China's most elite troops.