YINGXIU -- Top leaders joined millions of Chinese to mourn quake victims Tuesday afternoon on the one year anniversary of the massive earthquake in southwest Sichuan province.
President Hu Jintao and Vice Premier Li Keqiang attended a ceremony in the quake's epicenter Yingxiu Town, Wenchuan County at 2:28 pm -- the exact time when the 8.0-magnitude deadly tremor struck.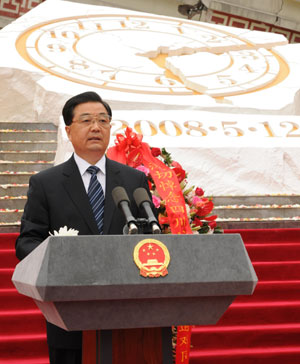 Chinese President Hu Jintao speaks during the ceremony marking the first anniversary of May 12 Earthquake in Yingxiu Town of Wenchuan County, southwest China's Sichuan Province, May 12, 2009.[Xinhua] 
All those attending the commemoration stood in a silent tribute to the victims of the earthquake, which left nearly 87,000 people dead or missing.
Ten floral baskets were put in front of a symbolic clock, with its hands stopped at 2:28 pm, May 12, 2008, the day of the tragedy.
Hu, standing before a floral basket dedicated by the Central Committee of the Communist Party of China (CPC), expressed condolences to the victims and those who sacrificed their lives during the quake relief.
He also walked to a commemorative wall and placed a white chrysanthemum.
The Chinese president thanked foreign diplomats who were invited to the ceremony for their contributions to relief efforts, saying they had demonstrated "grand humanitarianism and friendship with the Chinese people."
Reconstruction Efforts
Hu said China immediately launched the post-quake reconstruction based on the principles of "putting people first and respecting nature," and has since made remarkable achievements in rebuilding residential homes and public facilities including schools and hospitals, as well as in industrial reconstruction and restructuring, historical and cultural protection and ecological recovery.
"The post-quake reconstruction has registered important progress, and the quake survivors are marching toward a new life," he said.
He expressed respect and gratitude to all those who have participated in the quake relief and reconstruction efforts, including civilians, military staff and the international community.
The country's increased overall national strength since China launched its reform and opening-up policy 30 years ago laid a solid material foundation for the country to overcome the difficulties after the devastating earthquake, he said.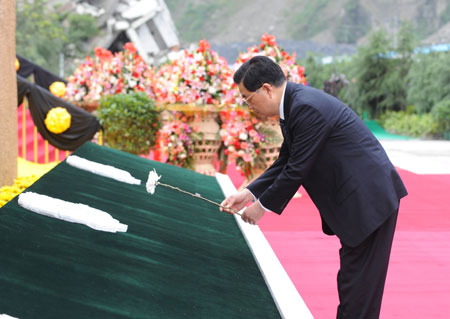 Chinese President Hu Jintao places a white chrysanthemum in front of a commemorative wall of the earthquake during the commemorative service to mark the first anniversary of May 12 Earthquake in Yingxiu Town of Wenchuan County, southwest China's Sichuan Province, May 12, 2009. [Xinhua] 
He urged efforts to implement the CPC Central Committee's policies and deployment on post-quake reconstruction and take just two years to finish the targets and tasks originally set for three years.