It is said that a picture is worth a thousand words, and since the early 20th century, photographs have helped define the key moments and people in history.
Put the words "the kiss" into the Internet search engine Google, and Alfred Eisenstaedt's iconic shot of a sailor kissing a nurse in Times Square at the end of World War II will top the list, while a search for "Kevin Carter" will bring up the late South African artist's award-winning yet harrowing pictures in 1993 of a Sudanese child being stalked by a vulture.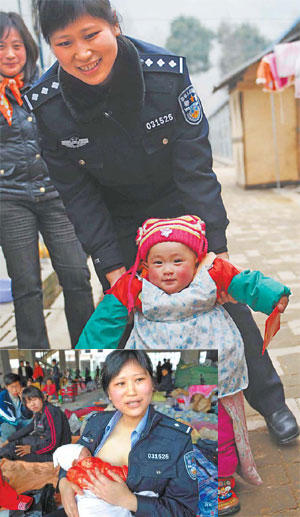 Jiang Xiaojuan helps Mu Yaoyao walk in the baby's native Beichuan county on Jan 20, 2009. (Inset): Jiang Xiaojuan breastfeeding Mu Yaoyao in Jiangyou on May 16, 2008. [China Daily]
In both cases, the pictures are the story, not least because they highlight the humanity that exists within a scene of utter chaos.
The image of policewoman Jiang Xiaojuan, captured as she breastfed a baby left uncared for in the May 12 earthquake in Sichuan province and circulated on the web, was one of such power it propelled her to hero status in China.
Taken by Li Xiaoguo, a photographer for Xinhua News Agency, the picture was published online just four days after the disaster and proved an instant hit with the cyber-public, primarily 20- and 30-somethings, who went on to dub her "the most beautiful police mother".
But Jiang, then a 30-year-old officer in the city of Jiangyou, earned more than just a nickname.
On May 22, less than a week after the photo was published, she received an honorary "national police model" award from the Ministry of Public Security, and was invited along with other quake survivors to talk at schools and other public venues across the country.
And one month later, she was promoted to vice-commissar of the Jiangyou public security bureau.
Since coming under the spotlight last year, the young mother has tried to withdraw from the public eye. Nearly 12 months after her heroic actions, she now refuses to even comment on whether she was glad the photo was ever taken.
"I'd rather the earthquake had not happened at all," she told China Daily.
In a slim black suit jacket, jeans, a purple and white scarf, and with her curly hair tied back, an off-duty Jiang looks like any other pretty Sichuan woman. She still rides an electric bike and always tries to get home to make dinner for her family when she can.
"Few people would recognize me in the street," she said. "It's not like what people imagine, I'm still me and life goes on."
But when she looks back to the time following the disaster, she revealed she feels more guilt than pride as her relief work meant she had to stop breastfeeding her own son Doudou.
Doudou was only six months old when the quake hit and was sent to live with his grandparents. "Back then, there was no other way," said Jiang, who was still clearly heartbroken by the separation.
She recalled that when she returned home during a work break on May 22 last year, Doudou appeared "much thinner".
Instead of breastfeeding her son, Jiang was at the time responding to what she called the "instincts of motherhood", caring for nine babies at a local disaster relief center.
"Their mothers had either died in the disaster, were injured or were too scared to produce any milk," she said. "And we didn't have any milk powder products then."
When the iconic photograph of her was taken, she recalled she had simply reacted to the babies' cries. She unbuttoned her uniform and started to feed them, without giving a thought to the media reporters in the area. "It was just instinct," she said.
She heard the news of her picture being spread on the Internet two or three days later. "I caught a glimpse of a paper (that carried the photo) and went back to work. It was no big thing."
For other people, though, it proved a very big thing and it made her the celebrity she is today.
But some citizens have criticized her "quick" promotion online or in the media, saying moral models should not be fast-tracked up the career ladder.
"Such an exceptional promotion fuels speculation," one typical web post read in a forum on the Xinhua News Agency website. In others, netizens argued promotions should be awarded on professional merit, not "good deeds".
Although support for the decision to reward her with a better post has not been unanimous, according to her superiors, Jiang's actions had proved she was a "good public servant".
Jiang, meanwhile, said her promotion was not "exceptional" as it was simply a "class 2" officer becoming a "class 1" officer, and explained she had been expecting the move even before the May 12 earthquake.
"Even without what I did, the promotion would have come sometime this year. The photo just made it come earlier," she told China Daily, adding: "People can say whatever they want. I just do my job well."
Her role now is to oversee the care of the bureau's junior or female officers, a topic that has long been close to her heart as she feels women staff not only shoulder the same responsibilities as their male counterparts, but must also play a major role in taking care of their families.
As a reward, Jiang contacted a beauty company and convinced it to donate free skincare and cosmetic products during the last Spring Festival. "Each of our 60 or so female officers got gifts. They need to feel beautiful, too," she said.
Mental health issues among officers have also been a concern. She explained: "Some of our officers, who lost their families in the quake, are under great pressure. After the relief work was finished, they immediately returned to their daily responsibilities. They have hardly had the time to recover."
Jiang said professional psychologists had been invited to offer counseling to officers, while a fun sports day was also being organized to help bring a smile back to the bureau.
When asked how she has coped with the trauma, she replied: "The secret is to have a simple life and a simple mind."