In a formal black suit, the quiet, tanned emcee had just taken part in an annual group wedding in Luoyang, the second largest city of central China's Henan province.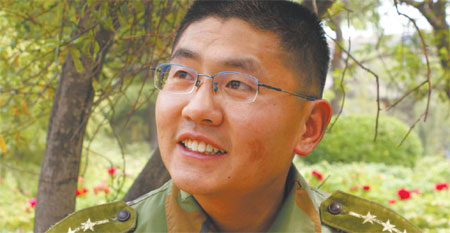 "Iron Army" political instructor Liu Huichao is looking forward to becoming a father. The 28-year-old lost a son due to his wife's miscarriage during the earthquake. His wife is pregnant again, and Liu is expecting a child around November. [China Daily] 
Like any rookie, Zhang Xinluo - who has been on the job only since December - led the brides and grooms down the aisle as he congratulated each couple, grinning tensely.
A bullet-decorated necklace underneath his shirt serves as the sole reminder of a completely different past.
A mere year ago, Zhang, then an army shooter, led search for bodies of earthquake victims in Yingxiu. For months, his job was to dig out and bury the dead.
"I saw too many families fall apart. That's why I took this job - I want to help form more families," said Zhang, now 27.
He was among the first batch of soldiers who rushed into Yingxiu on the late afternoon of May 14 after trekking muddy, mountainous roads amidst aftershocks and landslides.
At a time when all modern communication systems between Wenchuan and the outside failed, the hopes of the entire country lay with them, the hundreds of soldiers from arguably China's most elite troops.
The section of the army to which Zhang's company, later commended for its rescue and relief efforts, belongs is known as the "Iron Army".
Boasting a history of 85 years, it has been at the forefront of almost every war. Last year, too, the "Iron Army" played a central role at the quake's epicenter, a most unlikely battlefield.
Zhang's battalion stayed in Yingxiu for three months. Their tasks ranged from rescuing survivors and searching for bodies to clearing the rubble and transporting people to safe zones. The men also took part in the search for a military helicopter that crashed into the deep mountains near Yingxiu.
Memories of digging and burying the dead have never faded for Zhang.
As more bodies were found with each passing day, Zhang and the other soldiers became used to not only digging and touching the bodies, but also rearranging them so as to show respect for the dead.
Zhang Jinghua, who worked with Xinluo in Yingxiu and is still serving in the army, says the trick was in putting himself into the shoes of the dead.
"I'd think to myself: 'What would have happened if I were the one in that body bag? If people just left me there in pieces because they were squeamish, I'd be sad, too," he said.
But soon after their mission in Sichuan came to an end, the same courage that has kept Jinghua in the military drove Xinluo, a veteran of eight years, out.
Zhang Xinluo's decision to leave the army came as a surprise to many of his lads. After all, one more year of service would have translated into a much-envied promotion to NCO Third Class for the Luoyang native.
According to Liu Huichao, the political instructor of Zhang's former company, the shooter-turned-emcee "constantly suffered nightmares" after their troops returned to Henan. That experience, Liu hinted, was the major reason behind Zhang's unexpected retirement.
Zhang denied the claim, stressing: "No matter how long I stayed in the army, at the end of the day, I would have needed to get back to civilian life."
A promotion to Third Class NCO would have meant at least another eight years in the army; and when that time is up, Zhang would have been 35, "no longer young or competitive".
Almost half a year into his new life, Zhang says he loves being an emcee: He no longer needs to get up at 6 am, always the man with a crew cut and the same uniform.
But the bullet in his necklace speaks the rest of the story. "I was one of the best shooters in our company," Zhang said proudly.
Still standing ramrod-straight, the emcee wears the bullet necklace 24-7. "It (the bullet)'s from my favorite Type 81 rifle," he chuckled.
A year on, dozens of soldiers like Zhang have left the company. Others, like An Le, whose name literally means "peace and happiness", chose to stay.
No more rescue operations to conduct. No more bodies to bury. No more houses to build. No more mountains to trek. And most importantly, no more time to race against. Here in their military camp in Luoyang's Mengjin County, time seems to be among the least important of factors.
An, like everyone else in the camp, follows the same routine: Getting up at 6 am, attending drill twice during the day, and going to bed at 9:30 pm.
But the 21-year-old is now a the pride of the entire battalion. Last May, he pulled out a young woman from the debris after almost six hours. For that, An was named a national role model in quake relief in Beijing.
"We have the entire footage of him saving the girl; most other rescue efforts went unrecorded. An's act, proved in video, contributed significantly to our company's award,"
Liu said.